Flirting in Ruby Tuesday
Ehhem, since today is going be a food post with a little side story, might as well make the title a little bit more interesting. :P
I was having a dinner with Tristan before we went to see Dancing with the Stars roadshow. We went to
Ruby Tuesday
as I have never tried there yet though I have seen its commercial in Food Network many time.
Well, we wanted to have something more healthy, so both of us chose the same thing.
Fresh salad bar (buffet style) with white bean chicken chili.
For only 8.99 per person...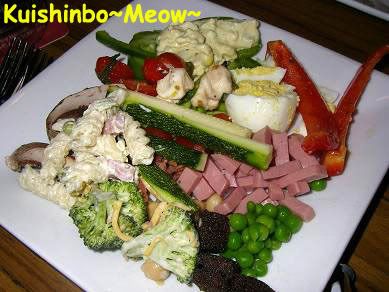 I had a huge 1st plate of very colourful salad. Love it. A perfect choice for hot summer day.
Lots of fiber, vitamin and protein.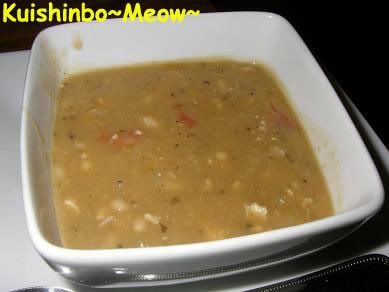 The white bean chicken chili was great. Went really well with a slice of roasted garlic butter bread. I enjoyed white bean chili more than normal chili. Love the taste of navy bean.
Don't worry guys, despite gulping down this big bowl of bean, I didn't release any gas during the roadshow. :P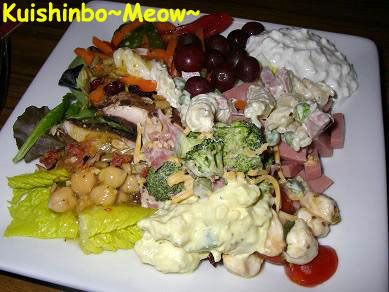 The salad bar was nice. I decided to go for another huge plate. Man~~~ I was really bloated. Too gready. Oops!
Well, Ruby Tuesday does have the fresh salad bar, but our "refreshment" was even more refreshing.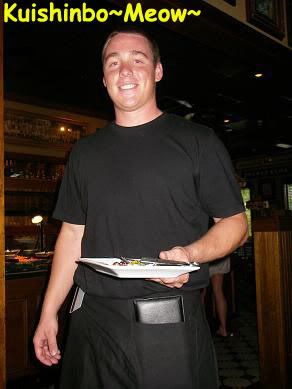 Tralalala~~~ please meet our waiter for the day - J.
This was the best waiter I have had in chained restaurant like Ruby Tuesday.
First, he is a cute guy.
Second, he has great smile.
Third, his service was great service and nice attitude.
He made us felt like a million bucks. Usually I could tell if a waiter is pretentious, but for his case, he was very sincere.
He made my meal taste so much better than it supposed to be.
After our meal, I decided to do something shameless. Tristan had to close one eye. Haha.
Here was what happened...
"Hi, I have a request.""This is my first time to Ruby Tuesday. I enjoyed it. I would like to take a picture of my waiter."
(The fact was I really wanted to say "Can I have your number?")
His face turn red, making his smile even melting Tristan and me more. (Thank goodness Tristan's boyfriend was not there.)
"Sure. I'll be happy to."
A little surprise on his face, but professional enough to accept his client's request.
*Was I his first client to make such a request.*
So, I took out my camera, he started to post.
"Errr, just me?""Yap, I just want your photo."
(Man~~~ I sound like a lady wolf.)
"How do you want me to pose?"
(He was confused whether to take the plate or not.)
"Just relax and pose as you like."
(I smiled to him.)
There you go, the picture on top. ;) Man, people around looked at our table curiously.
Now look back at the picture, do you feel he is cuter now? Tee hee hee...
Anyway, when he came back to return my card... (I just have to tip him more than 20% for the great time I had.)
"I have you all have a good time with us.""Oh yes, absolutely.""I hope to see you all very soon. Do come back and see me."
Wah~~~ he did not say "US". He said "ME"!! Obviously, he was enjoying these two sweet ladies companion too. ;)
Oolala~~~
My answer,
"Definitely."
(Yes, I will make sure I want J. Ha!)
Now, I was not flirting, was I? :P