Popcorn was on fire
Something unexpected happened today, which I wish I brought my camera along. Grrrr...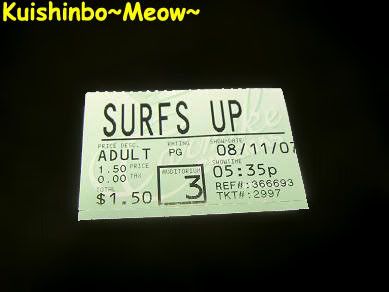 Anyway, I went to watch
Surf's Up
with a friend today. It was her first time to watch a movie in U.S. ever since she came 2 months ago. It was supposed to be a nice day for her.
The theatre was really packed with audiences. Full house. That was just 1 movie. Imagine there were 14 movies showing at the same time.
In fact, the staffs have to clean up the splattering sticky and oily popcorn on the floor that it delayed the time for the movies.
Finally, we went happily into the theatre...
The movie was entertaining, all the way until an hour later...
*BEEP~~~ BEEP~~~* *Blue light kept blinking*
Oh oh... not again?
The fire alarm went off.
When I was there a few weeks ago, the same thing happend. It was because someone press the alarm unintentionally.
So, this time I was thinking must be the same reason again.
Relaxingly, my friend and me followed the crowd to go out from the building.
*Sniff sniff* Oolala~~~ I could smell thick smoke!
OMG! The smoke was coming from the concession stand.
Quick quick search for me camera. *curse myself* Yah, how smart I was to leave my camera back home when I needed it.
Oh well...
I was "eavesdropping" at the staffs that talk loudly beside me.
She was talking on the phone. "The popcorn blew up!!!"
Then another staff on the other side, "My hand was caught on fire."
"Oh, let me see... let me see..." One staff replied to the burnt hand staff.
So... apparently, the fire alarm went up because of a popcorn machine was exploded. Nope, no one was in panic. Even the firemen were in slow actions.
What a sight to see. ;)
Now tell me, do I have some kind of attraction? To be able to experience fire alarm went off in the same cinema twice? One of them even for real? Seriously, my other friends went to this cinema many times too, but none faced this even once.
My friend who went with me was so excited. She is going to tell a good story when she goes home.
We didn't wait for the movie to show on again. They need the health inspector to check the place before they can operate again.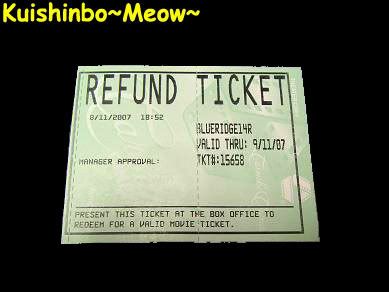 So, we got our refund ticket and continued with our shopping and dinner.
Oh man... that was indeed something for a Saturday.