Silly Fish!
I am so Paloi (a hometown slang to mean silly).
The quiz of the answer was in my photo's title!! How clever was I? By the time I realised that, Cathy have already gave me the correct answer!!
Hey Cathy, you were very fast!!! Even on a Sunday when my blog's traffic was the lowest, you came up with a quick yet perfect answer!!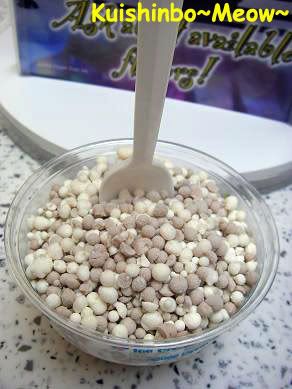 Her answer was
Dippin' Dots
. 100% correct.
Gosh!! I got a correct 1st answer for my quest. Next year I'll make sure it will be much much harder. LOL
Ok, Cathy, here is an extra question for you. Tell me which flavour was I trying? No extra prezzie for correct answer on this one though. LOL
Also, did you got the answer correct because of the title of my photo, or you've already know the answer once you look at it? I am curious.
The other 2 people who gave me the correct answer was Turtle and Lannae. No prize though. But I'll be happy to treat you one Coldstone Sweet Cream the next time we meet. ;)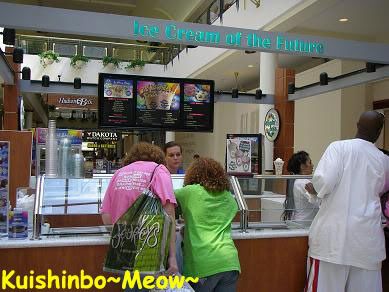 These dippin' dots are named Ice Cream of the Future. Geeee...
Sound very sofisticated?
Well, I enjoyed the flavour. It was good. But for texture, I guess why I love ice cream is because of the creamy smooth texture.
So, dot dot ice cream might sound fun to me, but too future for me too. LOL
*stop calling me old fashion's mind*
Congrats Cathy! Now, send me you address and name to me email. I'll send you the gift within 3 months if you are not in Malaysia.
Sorry for giving you the 3 months, because I am not sure when is the next time I'll be going to Godiva again. So please wait ok? I promise it is going to be a yummilicious 2 pieces nice Godiva choco. ;)
Oh, do you have any preference? White, milk or dark?
Thank you everyone that have participated. I enjoy seeing the answers, especially the mushroom. LOL