Muscadine Grapes - fruit of the South
Today, I want to introduce one fruit which is indigenous to North Carolina.
Muscadine grape
.
How many of you have heard about it? For me, I only knew about it after I came to North Carolina.
Let me quote about its origin.
The muscadine grape is native to the southeastern United States, found in the wild from Delaware to the Gulf of Mexico and westward to Missouri, Kansas, Oklahoma, and Texas. Many older varieties were selections from the wild, but the Georgia Agricultural Experiment Station and the U.S. Dept. of Agriculture have introduced a number of improved varieties that have become standard cultivars. The earliest named variety was Scuppernong, found growing wild in northeastern North Caroline in 1810 by Dr. Calvin Jones. Scuppernong has become another name for all muscadine grapes. Commercial production of muscadine grapes is essentially limited to the U.S. Southeast.
(source from
here
)
Woolala~~~ how cool is that? I am in the state where muscadine grape was first found!
I saw them last year and tried to pop one into my mouth, unfortunately, it was sour and astringent. Since then, muscadine = not a yummy grape to fish fish.
Luckily, my boss's wife saved me from missing out this great fruit.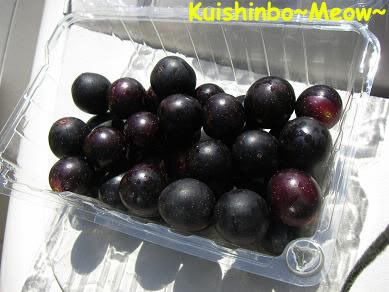 Tralala~~~ she bought a pack to the Lake House Party as she thought some of us from outside North Carolina might have not tasted it before.
My first reaction was a bit surprised with its dark purple look as the one I saw one year ago was greenish with some light purple.
Not waiting any longer, shamelessly, I volunteered myself to take the first muscadine from the pack. LOL
*suck* The flesh just slipped into my mouth with a few hard seeds.
OMG~~~ I was so high. This was much better than any kind of commercial grapes that I am familiar with. It was so sweet, and very fruity aroma. I am loving it.
Muscadine skin is thick and hard, not edible. The flesh is not a big portion of the whole fruit, but it is super sweet. Imagine some of the varities are more than 24% sugar content!
If you never tasted a muscadine before, you should really try one.
It does not grow in bundles like grapes although it is also a vine plant. I am proud to know this Southern Fruit.
Oh yes, my boss's wife told me there is Muscadine wine too. Next party, she will bring one for me to try. Wooooo~~~ I am excited now.
So, the next time if you come to North Carolina, don't just think about North Carolina BBQ, think about its Scuppernong too. ;)