Super easy and truly yummy Brownies
Ding Dong!!
I am going to my boss lake house for a party tomorrow with my co-workers.
He has a boat and will have tubing. We will have great dinner, all will be prepared by my boss and his wife!!! Am I lucky or what?
Ooooooo~~~ I am excited now. I never did tubing before so I am really looking forward to playing it.
I'll need to wear my swimsuit... errr... I have decided to go for 1 piece rather than the 2-piece I bought a while ago. Tristan told me her bottom almost got off last time, wow!! Too risky, hehe...
Ok... I am supposed to show something related to my title.
BROWNIES!!!
One thing about being one year in U.S., I am starting to like brownies. Sometimes, when I tasted some really nice brownies made by friends, I was amazed yet surprised at the same time most of these brownies were made from ready-to-use brownies mix.
I heard Duncan Hines is good. I tasted one, it was very good.
So, last week, since weather is getting nicer now, and not a bad idea to start to heat my oven...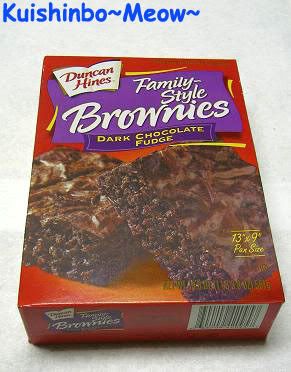 ...I got one pack of Duncan Hines Family-Style Brownies. I chose Dark Chocolate Fudge as I am a big fan of dark choco.
It even printed there... "Premium Brownie Mix". Woolala~~~ what a tempting quote.
This was a very cheap pack as I got it during offer time. Only $1 per pack. Truly a good deal.
So, tomorrow I am going to let my co-workers be my guinea pigs. LOL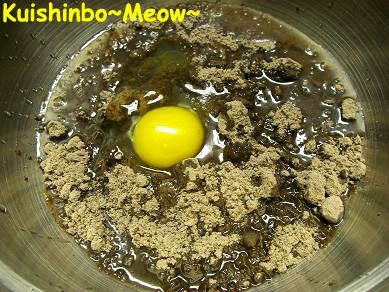 All I need for extra ingredient was an egg, 1/3 cup of water and 1/3 cup of vegetable oil to make fudgy brownies. I used corn oil. If one wants to make cake-like brownies, then 2 egg will be needed.
First, I preheated my oven to 325 degree F as I used coated pan. Then, I greased the bottom of my baking pan with shortening.
Next, I emptied my brownie mix into a large bowl with egg, water and oil and mixed until well blended.
After that, I spreaded the mixture into the pan and baked for 30 min.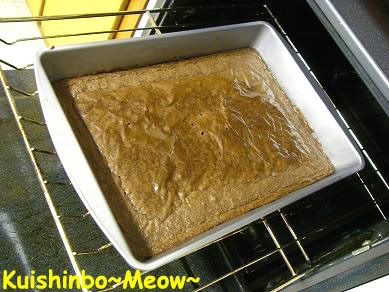 Tralala~~~ a Brownies was born!!!
My whole kitchen was fumed with the buttery aroma of this fresh from oven brownies. Too seductive that I have to eat one piece first while it was warm. Mmmm~~~~ soft, chewy, yummy and... I felt a guilty pleasure.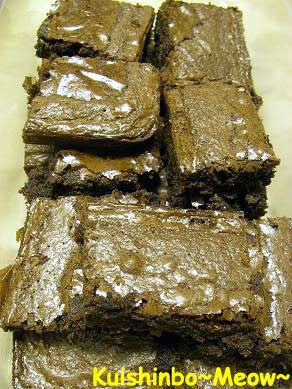 Oh yeah~~~ it may be simple and easy in preparation and cooking, but it is definitely not a simple piece just to be forgotten easily.
I love pre-mix. I am going to use more pre-mix from now on. ;)
With Duncan Hines, anyone can bake. Tee hee hee...