Happy Thanksgiving!
It is that time again, Thanksgiving meal with the boss and coworkers. We had the meal 1 week earlier as everybody will be pretty busy by this week.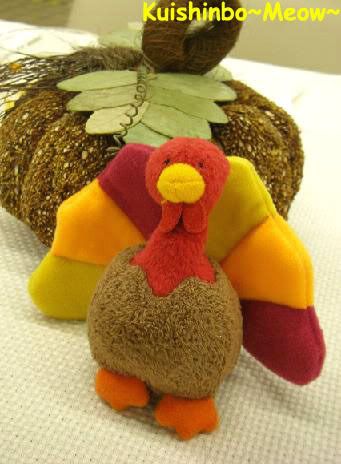 *LOL* Paige took her little princess plushie as part of the decoration. Squeezed it and you would hear real turkey's talk.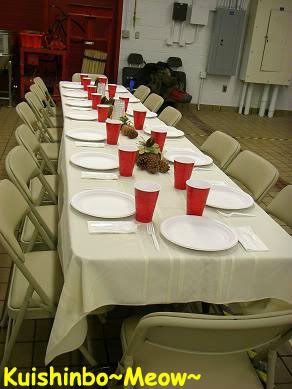 By the time we gathered in the eating location, everything have nicely arrranged.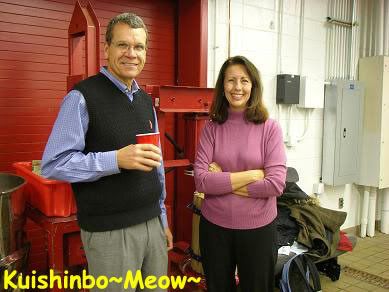 My boss and wife. My boss ia a tough guy. Very smart, capable and yet good in keeping his body shape and health. He runs two hours everyday and runs marathon every year. This year, the wife went to New Zealnd to visit the daughter and they both joined a half-marathon too. It is turning into a Marathon family. ;)
"So, when are you going to run a full-marathon?" "Never."
She replied.
Hahaha... well, at least she did the half-marathon. For fish fish? Hmmm... I would rather be tortured in a dancing room that run. Yes, I am that scared of running. But not walking, I LOVE~~~ to walk.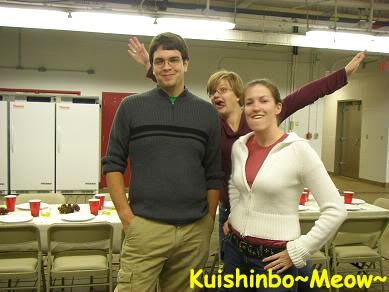 While waiting for the food to be ready, with hungry stomachs, some fun phototaking helped to ease the hunger. I like the expression of Yifat and Tristan in this picture.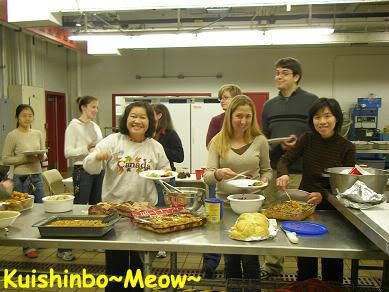 Yippie!!! Finally time to dig those foods!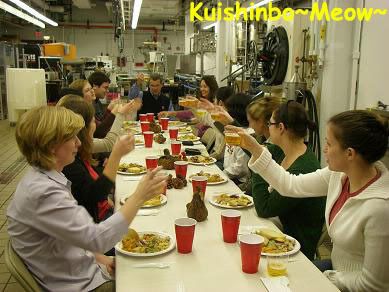 Soon, everybody got their food in a big plate and it was time to
"Cheers!"
.
Let see what did we eat that day.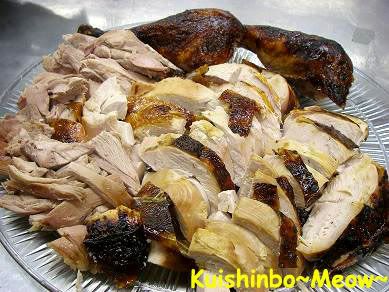 Turkey! Of course!
Paige is always the one that roast the turkey. She did a great job on this one, as usual.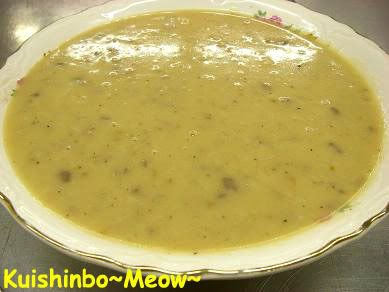 For the gravy, she used turkey neck. Mmmm... turkey with gravy, simply irresistible!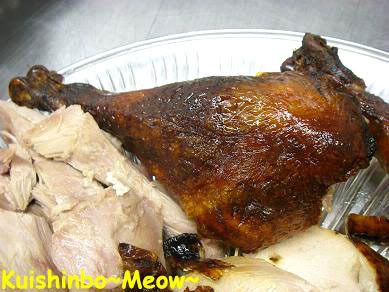 The best part about this turkey, was the crispy and thin skin. Not as crispy as the Peking Duck skin, but more flavourful and very thin. It was so different from those overcooked turkey leg in the State Fair.
As Paige did an overnight brining on the turkey, it helped to retain the moisture inside the turkey meat. It was soft, juicy and flavourful. I am not a fan of turkey, but I love this one.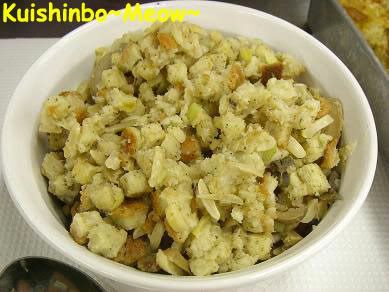 We have two kinds of stuffing to go with the turkey.
This is the more common nowadays stuffing. Good flavour but not as impressive as the next one.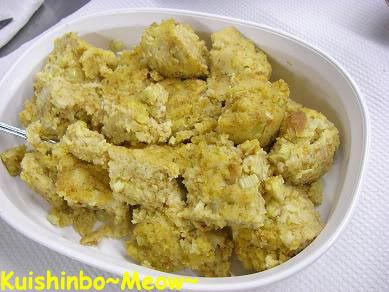 I encountered this kind of stuffing for the 1st time. Thanks to Jo who prepared these two stuffings for us to experience.
Personally, I love this traditional stuffing more. Jo said it is more known as "dressing" in her family. She prepared this from scratch.
It is not the chunky type of stuffing. More densed, with the sweetness of cornmeal and crunchy texture of celery chunks, it gave more pleasant moments both taste and texture. I enjoyed it so much that I decided to go for a second round on this one. :P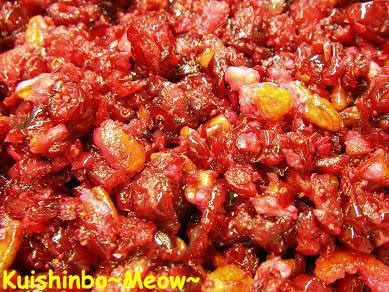 For the cranberries-themed sauce, Mallory did a great job in preparing this cranberries chutney, No cooking is required for this dish. The acidity of cranberry and orange with sugar gave a very good balance to it. I like the accent of walnut in this dish.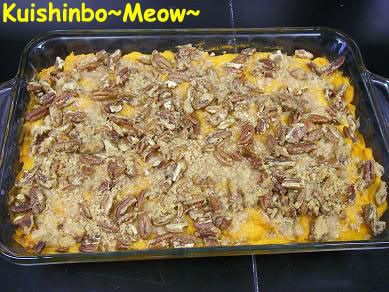 For side dishes, Jeab baked this wonderful sweet potato casserole. Mmmmm~~~~ the precooked and mashed potato was full of those sinful butter oozing out from it once you put it in the mouth. As Jeab baked it just before the lunch, it was even extra good.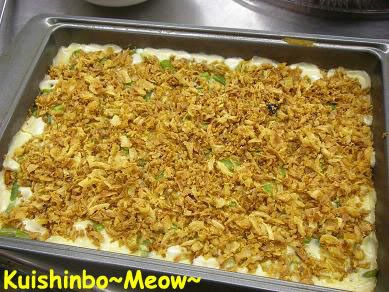 Tristan prepared another type of casserole - greenbean casserole. It was one of the nicest greenbean casserole for me. I like the generous potion of the mushroom cream with the not overcooked greenbean. Hehe... I know greenbean is supposed to be overcooked, but as I grew up in Malaysia eating crispy sitr-fried greenbean, the texture of this greenbean casserole somehow nostalgic for me.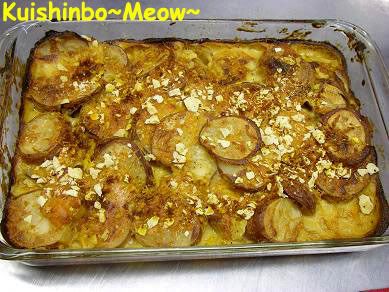 Neal, the only 6'6" guy (excluding my boss) although looking tough and well-built, his cooking always let us see the softer side of his. This cheesy caramelized potato dish gave a different feel to a Thanksgiving meal that the conventional mashed potato.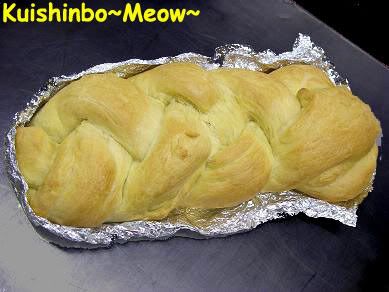 Jen made a Jewish bread to go with all those savory dishes.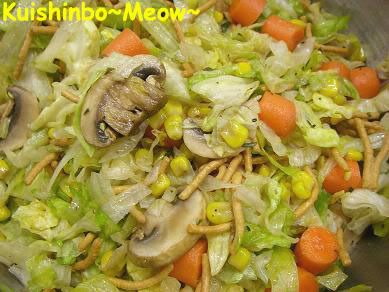 Eh hem... the
lazy
fish fish's "cooking". Ok... not exactly a cooking, but I made the salad dressing, cut all the vege and grilled the mushroom. Well, my dish is an important one because people need fiber! for such a heavy meal. Don't you think so? :P
Oh my... it was one of the fullest lunch in this whole year. We were all so well-fed. But still, we need to have some dessert. In fact, we had quite a few good choice for satisfying our sweet teeth.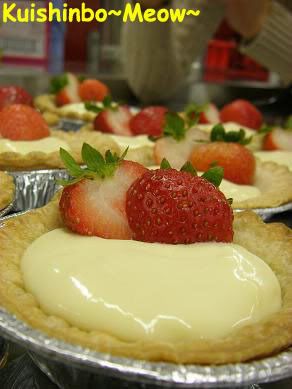 Too beautiful cream tart with fresh strawberry by Yvette.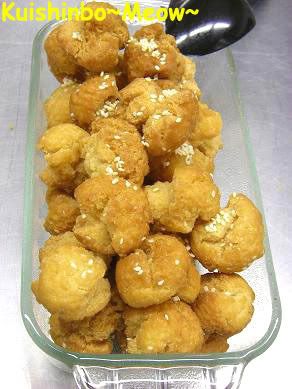 Thai-style laughing doughnuts by Tookta.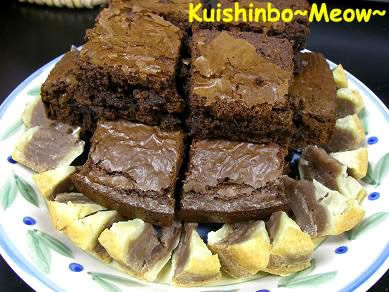 Unsuccessful rice cake by Xin. She mistakenly baked it instead of steamed it. So, the rice cake was too dry. As a result, she has to bake another brownie that morning as emergency replacement.
The rice cake are very pretty, but yes, the texture was too hard. LOL Xin made it worst by "microwaved" them right before serving.
Try again Xin, we would love to be your guinea pigs. You know we can chomp down any kind of food. ;)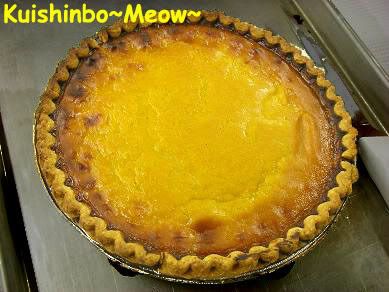 Esra baked her pumpkin pie a bit too late. By the time this pretty pie was baked, we were already 150% full. Although this pumpkin remained a full moon shape during the noon, it was 3/4 gone by the end of the day. LOL
Oh my... thank you everybody, for the great meal and awesome moment. I am really grateful I get such wonderful people to work with.
Happy Thanksgiving everybody. Be thankful with all the happiness we possess.