Penang restaurant in Chapel Hill
Hello folks, how are you all been doing?
Yes, Primrose, you are right sweetie, life have been so busy that I didn't get the chance to even read blogs much. I will do your tag in a few days time when I have time to think of all the answers. LOL
However, the good news is... there will be a lot of posts coming up, pretty regularly for these few weeks. I have done quite a few interesting activities lately, with fabulous people, that I must blog. ;)
Today, I want to bring you all to a "Malaysian" restaurant in North Carolina.
Oolala~~~ yes... we have a Malaysian restaurant here! 30 minutes driving from my place.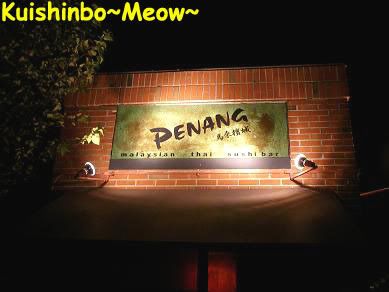 At least, the name was pretty Malaysian -
PENANG
.
But then, when you see those small words described it as "malaysian" "thai" and "sushi bar"... you know it might be something fishy.
No harm to try for the 1st time... so my 2 friends and me decided to give it a chance.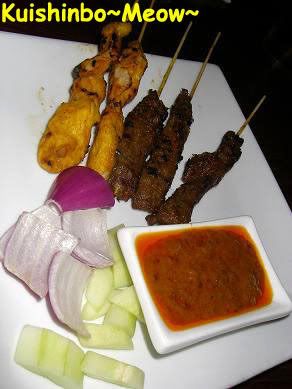 For appetizer, we ordered satays.
Hmmm... I couldn't really say I like it. The chicken was soft, but flavorless. The beef was too lean, definitely not a good beef part for satay. Even the way the meat on the sticks was not right. The peanut sauce lack the right thick texture and not a good nutty flavour, and not giving me a good impact to remember it. Needless to say the cucumber and red onion - they were dried both look and taste due to long time exposure to air.
The 1st dish was a disappointment.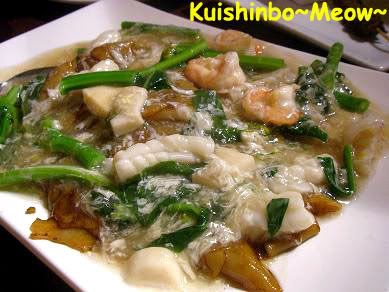 Next, the Wa Dan Hor.
In term of portion - it was good. First impression on its outlook was pretty good. Unfortunately, the whole thing was too salty yet the Kueh Tiaw itself didn't being caramelized to the charred texture a good fried Kueh Tiaw was supposed to have. Not even using scallop able to upgrade the taste.
Although it was not impressive, this was actually one of the best dish for the whole dinner. Yes, it was that pathetic.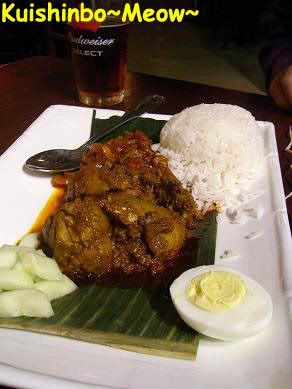 Nasi lemak was lack of the intense coconut fragrance. There was enough nasi, but not enough lemak. The sambal was only so-so. Too mild, too watery and too oily. A good nasi lemak's fragrance should be able to be detected even when you are a few tables away, but I put my nose 5 cm away from the rice, I hardly sensed any of it. Neither do the sambal managed to make me feel like sneezing. The chicken curry was ok, but a good nasi lemak don't really need this extra thing to cover the taste.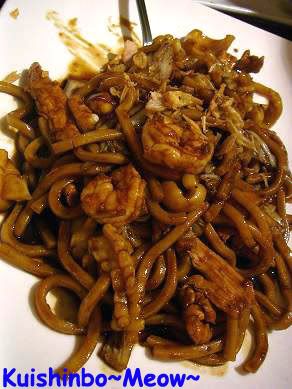 Although I never tried a Penang's Hokkien Mee before, I do remember very well how a good plate of KL's Hokkien Mee should be.
This one - definitely not even qualified to be called hokkien mee. Once again, I didn't see any good charred part from a well mixture of the noodle with the thick sauce. It was too watery. The gist of hokkien mee - the fatty fried pork chunk with the pork oil were absent. Well, this restaurant is not a halal restaurant, therefore to use pork is not a problem at all. This dish was so hard to swallow we only finished 1/3 of it.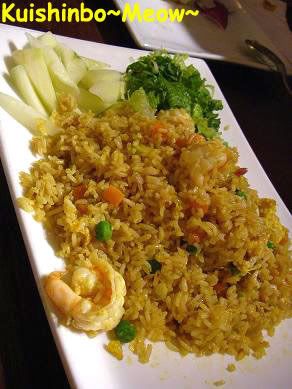 Finally, this was a funny plate of Nasi Goreng. It was named Coconut Fried Rice. It was described as Chef's special
fried coconut rice
with shrimp and string beans & carrots topped with cucumbers and
boiled egg
.
Silly! First, you don't use boiled egg for nasi goreng. Boiled egg will not bring out the real flavor of a good plate of nasi goreng. Worse... this plate didn't even come with boiled egg! My mom's Fried Rice with Egg only tasted much much better than this.
Second, it was supposed to be COCONUT fried rice. We all agreed it was just a very normal plate of FRIED RICE minus the coconut. If they wrote it as simple as "Fried Rice", we would say it was pretty ok. But since it said Coconut Fried Rice and we were really looking for that rich and milky coconut flavour... I must said it was a failed plate for me.
:P Ok, I know this is such a bad review from me for a Malaysian restaurant in U.S. Hey, I grew up with Malaysia foods, only the best can impress me. Like
this one
.
Definitely not going to attract me to go back for a 2nd visit. Too bad.