How to make mom's version of sweet and sour pork
I took these photos for the purpose of my personal recipe. Since one of my reader, Ivy mentioned that she wants to learn too... Here I am, sharing with you all. Sorry for the lack of proper photos as it was not meant for public exposure. LOL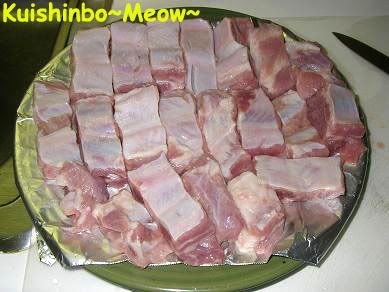 Preheat oven to 350 degree F.
Cut and clean 2 lbs of pork ribs. Arrange them on the plate evenly for equal heat distribution. I use non-stick aluminium foil for cooking things in oven. It is very convenient, though a bit more expensive, but defenitely worth the value.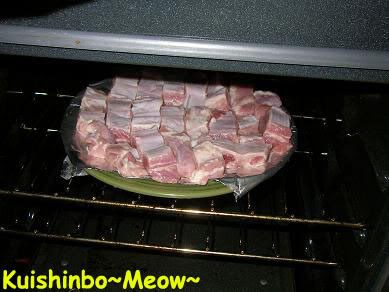 Put the pork into the preheated oven for about 25-30 min. (When the meat slightly turns brown.)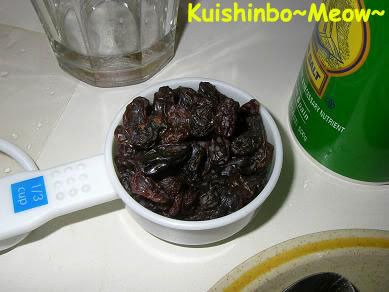 While waiting for that, about 15 min before the pork is ready, prepare 1/3 cup of raisin.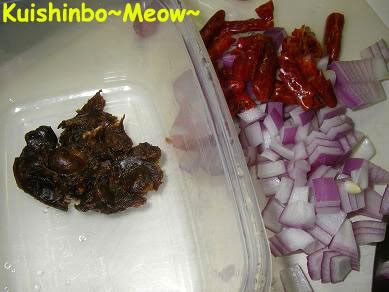 Dice about 1/4 of red onion as shown in the picture (it is best to have whole shallot, but since shallot is so expensive in my area, using red onion is equally good.)
Prepared about 10 dried chillis without cutting. If the dried chillis have seeds inside, remember to clean them away.
Put about 1/4 cup of tamarind puree into a container or a bowl.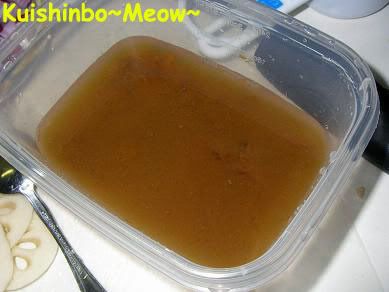 Add a few cups of water in it. Squeeze the tamarind inside the water so that it immerses to form tamarind juice. (The amount of tamarind juice is optional, try to put less first to adjust the sourness. If you prefer it to be more sour, you can always add some more tamarind juice in it during the cooking process later.)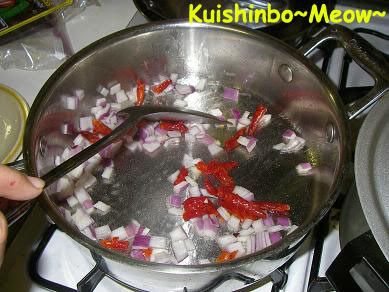 Brown the red onion and dried chili with 2 tbspn of cooking oil.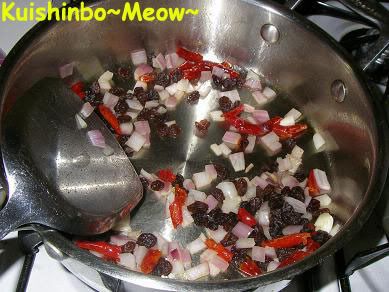 Add in the raisin.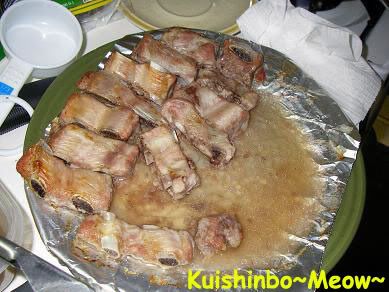 The pre-grilled pork is now free of unwanted odour. Add the pork into the pot.
Scratch the burnt part with the remaining pork juice as this is the good stuff.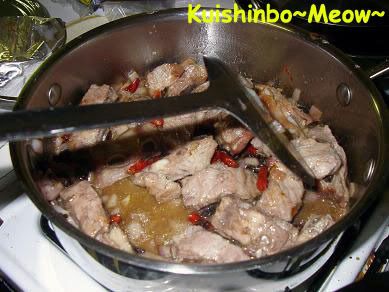 Add in the pork juice and tamarind juice (remember the tamarind juice is added according to your own like on sourness).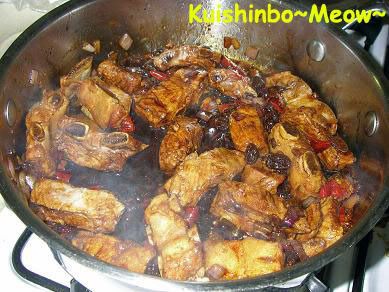 Add in black soysauce to give the dark colour.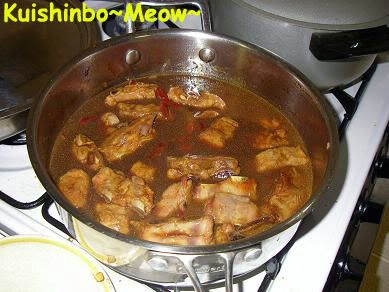 Add in water. Once it starts to boil, turn the heat into medium low to cook for an hour until the gravy turns thick.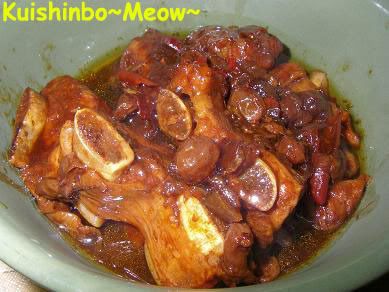 Tralala~~~ there you go... a nice bowl of Sweet and Sour Pork is now ready for you to chomp down three bowls of rice. LOL
I am going to try to make this one day.