Mom's cooking is the best
I miss my mom. Her cooking is still the best for me. I bet many of you will have the same feeling, mom's cooking is always the best.
During her stay with me here in North Carolina, I couldn't wait to go home every evening. I knew there would be hot yummy dishes on the table waiting for me.
It was really very good to be spoilt by mom in such a way.
Hey, you all who still stay with mom and having homecook everyday, don't take that for granted. It is really a great way of happiness.
Anyway, today I am going to show off some of my mom's cooking. ;)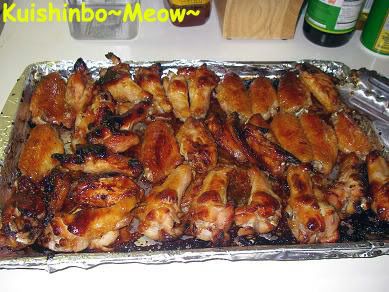 She made really good grilled chicken.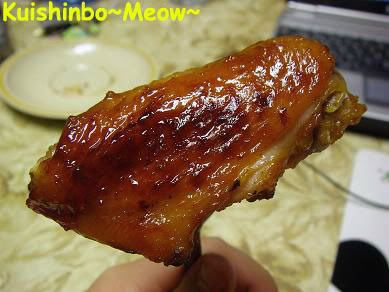 Fresh from the oven... so moist and soft I hardly need to chew it.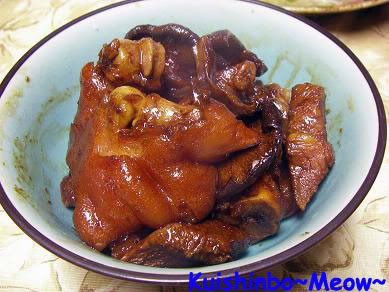 I have not had this for years. Mmmmm... her mushroom pork leg. So flavourful. The texture was not too soft nor hard. It was finger licking good.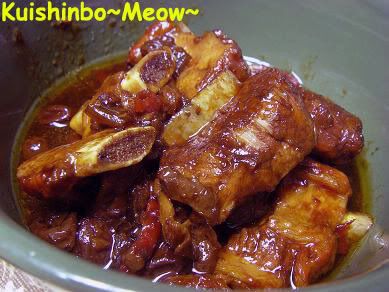 This is one of my mom's signature dish. Sweet and sour pork rib. The blending of sweetness from raisin, spiciness from dried chilli and sourness from tamarind juice... awesome. I could easily chomp down three big bowl of rice even with the gravy only.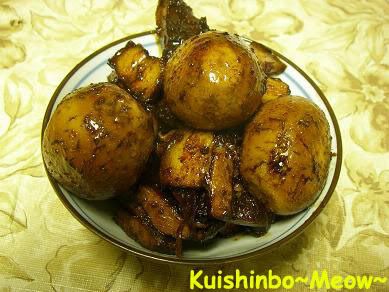 Another famous dish of mom. Her five spices meat and eggs, sweeter than common five spices dishes found here. I grew up eating this, and I love it. Especially her five spices duck. Since it is hard to prepare a huge duck in my kitchen, she decided to use pork belly.
Usually I don't eat pork belly as it tends to be too fatty. But with this one, I forget what is "fat".
I am a huge fan of five spices egg, and mom's one always taste in a perfect way. The combination of fragrant premium Jasmine rice with this bowl of yummilicious... it was divine.
Of course, mom is also very good in cooking vegetable dishes.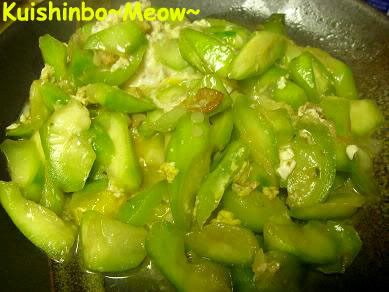 My favorite gourd dishes by her. I remembered when I was studying in UKM, every time when I went home for school holidays, I would buzz her to cook this for a few days continuously.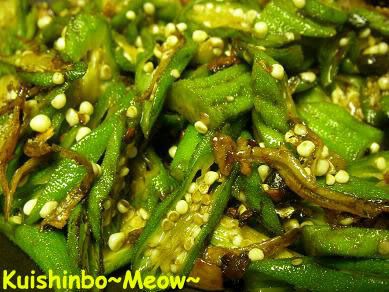 I did not realize I actually like her stir fried okra very much too, until she cooked it again for me. Crispy anchovies, nicely browned garlic chips and spicy sauce were just the right combination for this slimy vegetable. I let my other countries friends to try... they love it as much as I did.
Simple, quick but absolutely delicious.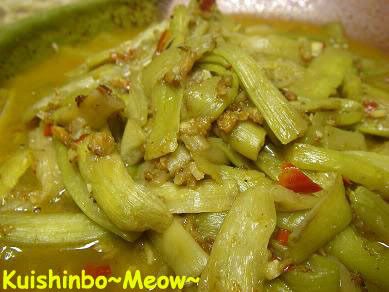 We went to Asian Market and saw taro stem. It was expensive, but my craving for this was so strong. So, the next day dinner, I saw this nice plate of sambal taro stem on the table waiting for me.
I almost cried with the first bite. Too much memories for me. Hey, for those of you who think that this is an animal feed, you don't know what a good stuff you have been missing.
Another dish that provoked me to eat 3 bowls of rice. *help!*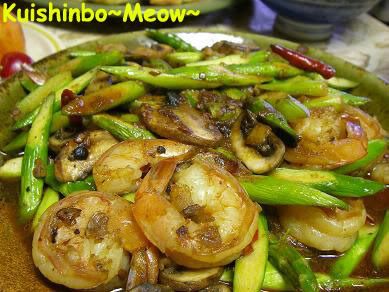 On the final day in North Carolina, mom decided to cook this sambal asparagus with shrimps for my "tea time". LOL
The asparagus was very fresh. It matched very well with the sweet and plump shrimps. The Adabi Mee Siam sauces brough out the great flavour of these 2 ingredients.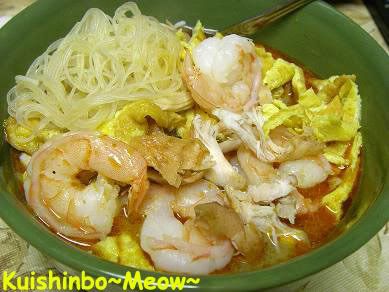 The best of all - I have homecook Sarawak Laksa prepared by mom with lots of love.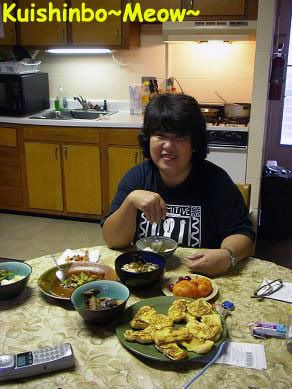 All these were from my greatest lady - my dearest mom.
She is beautiful, isn't she? ;)
Thank you so much mom.