On the day to the east coast
Dec 21, 2007 was my last working day for the year. That evening, with mom, we headed to the airport.
We were there pretty early.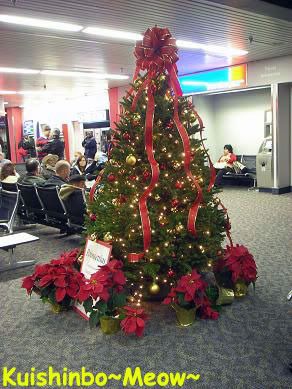 Not much decoration, but there was a Christmas tree in the middle of the lobby.
Live band kept playing nice Christmas songs for people who are arriving and departing.
It was a smooth and fast check-in for us, unlike last year.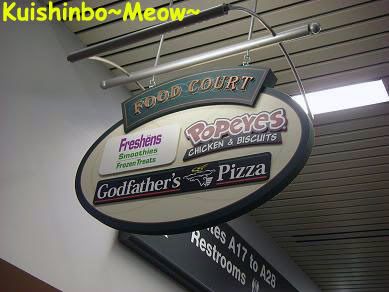 Since we still have some time, we decided to try
Popeyes
.
I heard about it, saw it a few times in this airport, but never had the right chance to try it.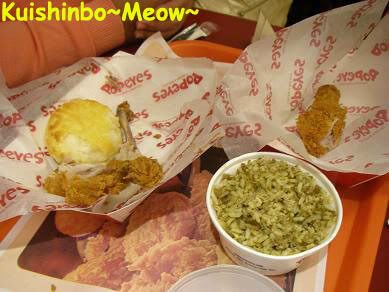 Due to the mistake made by the cashier, I was given an extra leg. Well, I was charged a 3-leg price when I only ordered a 2-leg dish. So, to make thing easy, an extra leg would do.
Not as good as
Bojangle's
.
I bought a huge packs of Bojangle's on the way to this airport. A couple was for mom and me to chomp in the flight. We did. It was quite a nice experience. :P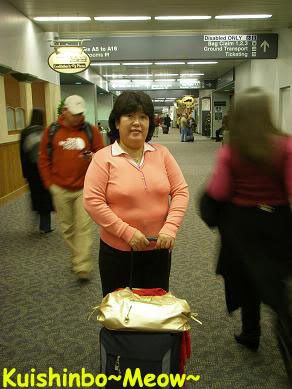 Mom saying goodbye to North Carolina.
And... we said Hello to South California.
It was not a good experience that night. The air inside the flight was quite suffocating. After we landed, we had to wait inside the flight for 75 min before the gate was available for us.
Worst... poor
Mr. Food Guide
was stuck in the freeway 3 miles away from the airport. It took him 3 hrs to actually arrive the airport to pick us up.
It was the worst traffic jam he ever faced.
You should see how one silly lady tried to block the back of his car by parking so close to his car when he was trying to put our luggages into the car. I have never seen him that fierce. He must have been very very angry.
Argh!! I should have taken a picture.
Oh well... at least the coming journey was getting better. ;)