Sushi Yosuke
A short side talk before I start the post for today. I received an email yesterday night.
AAA Apartments would like to invite you to come enjoy summer in January. There will be summer music, food, drinks, music and dancing.
When: January 12, 2008
Time: 8-11 p.m.
Where: Multi-Purpose Room
Now tell me, if you received such an email, would you thing there will be "food"? So, my friend called me today. Her whole family did not take dinner. Neither do I, except I took 1/3 of raw jicama after my heavy workout. We all waited until 8p.m. hoping there would be at least mediocre pizza.
We were shocked to see the food meant "2 packs of chips, 1 plate of mixed vege salad and 1 plate of fruit salad" plus "1 salsa and 1 dressing" plus "drinks".
The invitation was sent to at least 100 people.
I ate a few chips. Some fruit and a few chunks of vege. Then, my friend and I looked at each other. She decided to go home and cooked instant noodle. I decided to eat my tofu with beef ball soup.
Clumsy me... looking for the right key while climbing the stair. The next thing I know, a stiff pain on my hand and leg. Yes, I fell off. Luckily nobody saw it. -_-""" 2 bruises and 1 twist. Ouch!! Especially the twist on my foot, still hurts me even after 3 hrs. I just hope tomorrow I will be to walk to my work place at I need to overtime to finish up my writing. Gah!!
I felt so dumb today.
Ok, thank you for listening to my whining. Now, let us get back to the good part of this post.
********************************************************************
Staying in Los Angeles will spoil you with good foods.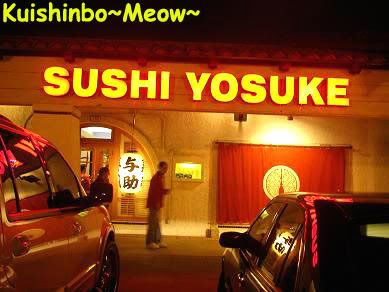 We had dinner with A & N at this Japanese restaurant that recommended by them. Real Japanese restaurant by Japanese. Well, in case if you don't know, it is a common phenomena in U.S. whereby most of the Japanese restaurants are owned by Korean. The signature thing to know is... they always serve Sushi and Steak.
But luckily, not for this Sushi Yosuke. The name Yosuke itself already told you it most probably not by Korean.
It made me feel nostalgic the moment I stepped into the premise.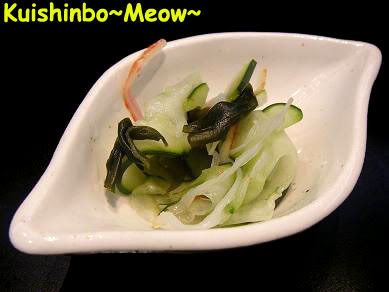 Usually I like Japanese welcoming appetizer as it is decided my the owner. However, this is not to my liking. Too sweet and sour.
But then, the coming orders did not disappoint us.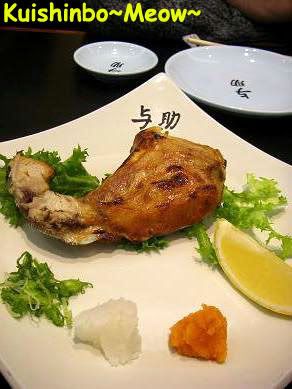 We had a Hamachi Kama (baked yellow tail cheek). I never had a Hamachi Kama before although
Buri Kama
has been one of my favorite dish in winter that I would order at least twice per month. In Japan, they have different way to call yellow tail according to size. The small one is called Hamachi, and the grown up is called Buri.
This Hamachi Kama was good. Somehow, it had less fat if compared to Buri Kama. Grilled fish cheek is definitely one of the strongly recommended Japanese dish from fish fish. You will taste the best of the fish.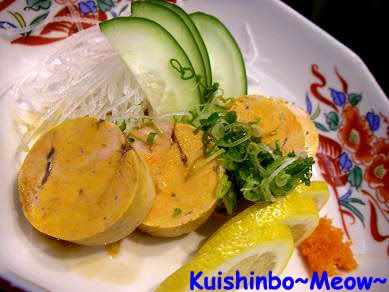 Next, was something I have yearned for quite some time. I have saw many TV programmes introducing how good an Ankimo (Liver of angler fish), but I only got the chance to taste one
as a topping on the sushi
when I was in Japan. It was very hard to get, and expensive.
I love this!!! Somewhat similar to Foie Gras, but much less greasiness and the texture was much more to my liking. The first time I had Foie Gras, I tolf myself I would not go for the 2nd time.
But the moment I tried this ankimo, I know the next time I see it on the menu, it will definitely be my order. In fact, I love it so much that night that A & N decided to spare their portion to me. *sob sob* Thanks!!!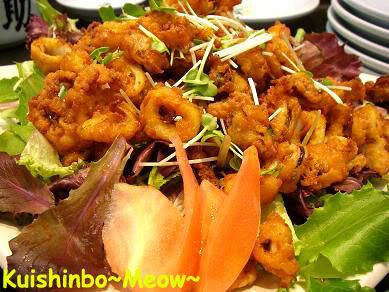 Ika tempura of this shop was pretty unique. Instead of the common Japanese batter, the chef used a spicy batter. I like the taste, but it was somehow a bit too greasy with the frying.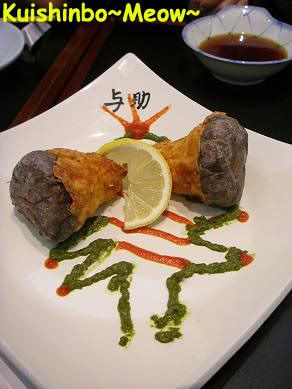 Ebi Shinjo (deep fried greated shrimp), a dish I learnt from a few treat of host family and friend's family to
Ume No Hana
. I like the version in Ume No Hana, one of my favorite tofu chained restaurant in Japan. The one in this restaurant looked very different, more like the American way stuffed mushroom.
Taste different too. Not as good as the one in Ume no Hana, but one thing I like about this dish was the drawing!! Hehe... did you even notice what are the green and red represent? ;)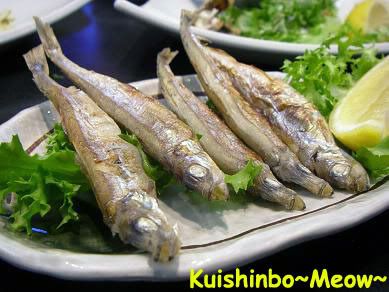 Grilled Komochi Shishamo (Smelt with eggs). A typical small fish with a lot of eggs that commonly consumed by Japanese. Hehe... somehow these few did not have as much eggs.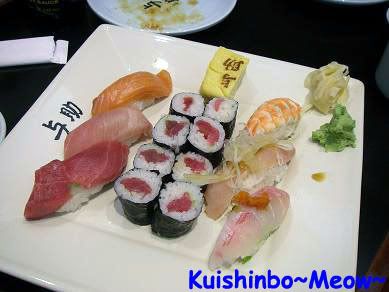 We also ordered 8 types of sushi for some rice. The egg cake was very sweet. Prefer it to be more salty.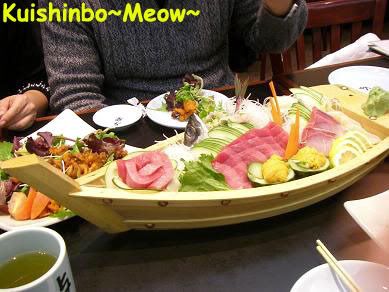 The highlight of the night - got to be this Sashimi Moriawase (Sashimi Combination).
Oolala~~~ so beautifully arranged.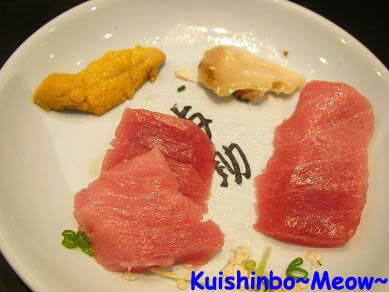 They were very fresh and yummy!!! Guess which was my favorite?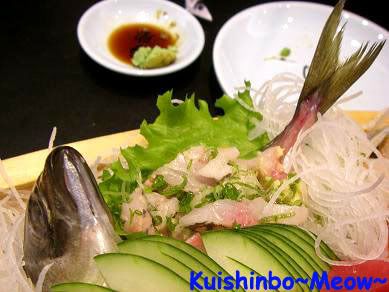 We had a special sashimi served on that evening. It was Aji (Spanish Mackerel). Whole fish was served with the flesh being marinated to give an extra flavour to these already sweet and smooth flesh.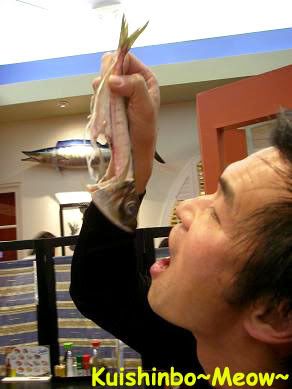 It was so good that Mr. Food Guide almost wanted to swallow the whole fish.
But the waitress was fast to stop him.
"Let me ask the chef to do some magic for you."
After 15 min...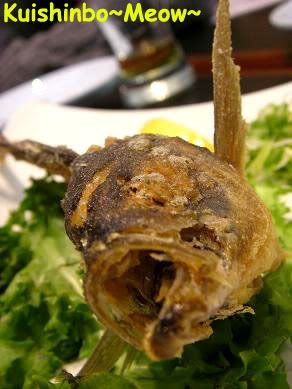 Tralala~~~ the dull raw fish head and bone turned into an extremely seducing fish with a mouth wide open saying to Mr. Food Guide...
"Oh yes... you, come and kiss me!!"

Even fish fish had to kiss the bone too. It was so crunchy and light. I love this calcium!!
The head? Oh well... since the fish wanted Mr. Food Guide, we let him had it.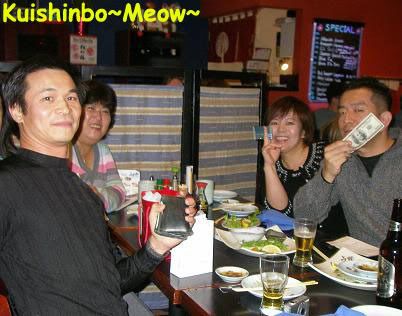 What a satisfying face after the kiss of the fish. LOL
Hehe... as usual A & N with their naughty action when taking picture. ;)
Mama big smile proved this was indeed a very good dinner.
We need some walk after that full dinner...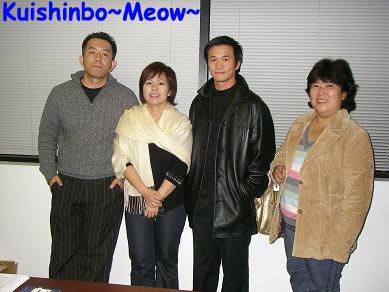 We went to have a walk in A's office. LOL It was a fun time.
Thank you A & N for the great evening.
Your office is cool!!