Chap Goh Mei's dinner
Chinese New Year 2008 came, but soon, it will be ended in another few hours.
These past 2 weeks, I have been very busy with writing. Annual reports, final report, technical reports... so much writing that I don't even feel like to turn on my Yahoo Messenger at night neither writing any email. Needless to say spending time on editing photos and write my blog. I have had enough figures for me to edit.
These reports really consuming a lot of time, at the same time, boss wants me to start working on my next two projects.
He says it is a way to train a person to handle multitasks. One year ago, if he said that to me, I pretty sure I would cry so loud at night, thinking why my life is so bitter. But todays, the minute he sent us last minute notice saying
"Crew, it is time to write me another report. This time I want blah blah blah... Sorry for the short time, but I need it as soon as possible."
Me and my co-worker will look at each other and said,
"Not again."
Then, we would start to sit down and try to do the task. When this happens, usually I will have to cancel my working plan for the day, delay it to the next day. And if can't finish it, going back in the weekends to finish it.
Trust me, I almost "hate" my boss when I felt he was so pushing. Strangely, I think his way of "training" seems to be effective on me now. I don't feel the stress I used to have. My work still stressful, but I look at them as my challenges. I can now actually see through them the opportunities behind these works.
Hehe... is that me I am "growing up"? Maybe. Hopefully.
Anyway, tonight I shall spoil myself a bit since it is the last evening for Chinese New Year 2008.
I cooked more simple than my Chinese New Year Eve dinner.
Only three dishes. All get done within 30 min.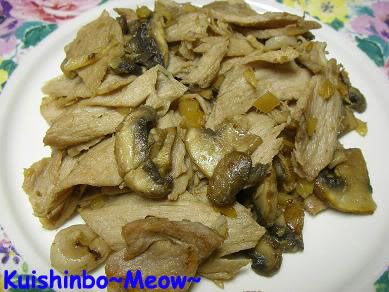 First dish, a very thinly sliced pork stir fried with portabello mushroom using finely chopped ginger, Sao Xin wine and light soy sauce.
It was good. The brown surface of the thin pork slices gave accentuated the whole dish flavor. Enriched more by the Sao Xin wine. I planned to eat only half, but I ended up finished 2/3 because they were really good.
I am proud of this dish. :P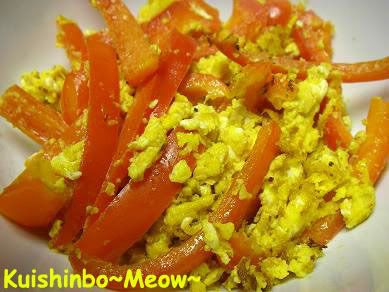 This is a modified version of tomato fried egg.
Instead of using tomato, I wanted to have something new. So, I did a fusion style using red pepper, beaten whole egg and light soysauce.
Oolala~~~ despite a bit dry because I used minimum volume of oil, it turned out pretty good. I enjoyed the succulent yet crunchy texture of the striped red pepper the most.
Soup, how could I miss that.
This is an example of the very simple yet good to indulge homemade soup.
Browned ginger slices and dried shrimp was boiled with tofu. Because I used the charred bottom of the previous pork dish, it went into the soup, added extra "sweetness" to this bowl of soup. Love it!!!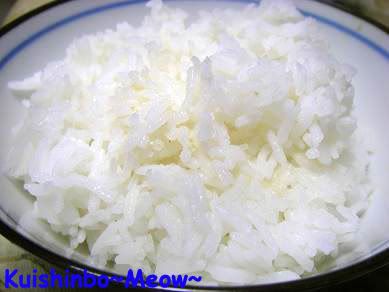 Of course, nothing can beat the combination of the above dishes with this bowl of fragrance jasmine rice.
Mmmm~~~ this was soul healing.
Best, I talked to mom over the phone again when I was chomping my yummilicious. ;)
Oh~~~ I am excited for the next three day. I will go to a 3-day trip with a bunch of fun people.
So, tonight will be a very early sleep for me, at 10p.m.
Have a great weekends everybody. ^_~