My New Year Eve Dinner
I came home early yesterday to cook myself a whole table of "Reunion" dinner.
After a nice walk home with my co-worker, immediately I got myself busy around the kitchen.
After less than an hour...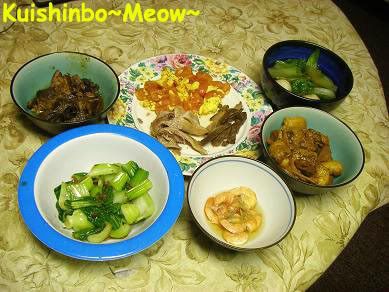 Tralala... my simple yet not too bad Chinese New Year Eve's dinner! ;)
A total of
8
dishes, just to take a good symbol into my dinner.
Of course, I cheated a little bit. :P
I actually cooked 5 dishes on the spot while the remaining three...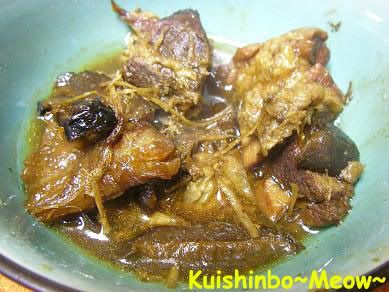 A bowl of braised beef tendon and pork with mushroom that I prepared few days ago. I love this! Proud of myself on this one. LOL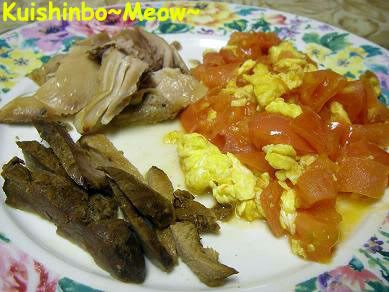 Then the grilled chicken and grilled pork were the one I brought back from my work place. Good stuff too. Especially the pork. Very flavourful.
The tomato with egg is my favorite dish. I used Shao Xin Wine and Light Soy Sauce to cook it. Yum~~~ The colour red and yellow also gave a nice good symbol to the dinner.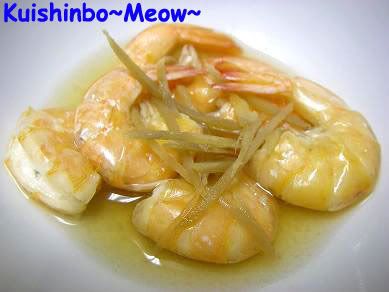 Unfortunately, I failed this one. Rice wine and ginger steamed shrimps. I steamed the shrimped for too long, it should be 5 min, but I cooked for 20 min. -_-""" The sauce was perfect, but the prawn was... ehhem... better not to mention. But I did finish them all despite the horrible texture.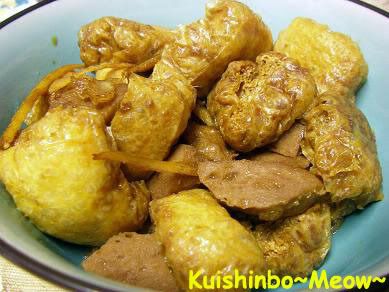 Thank goodness the coming were getting better.
A nice bowl of stir fried tofu puff with beef ball. It has been quite a while since I ate deep fried tofu puff. It was definitely a very normal yet powerful to warm me up dish. I never failed to ask for extra Tofu Puff in my Kueh Chap bowl.
It reminded me of my mom home cook deep fried tofu puff.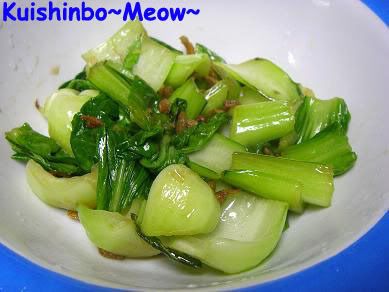 My homestyle stir friend vegetable. Just garlic, crispy dried shrimp and light soysauce. High heat, splashed the vegetable and flip a few moment.
Tadah~~~ never get tired with this.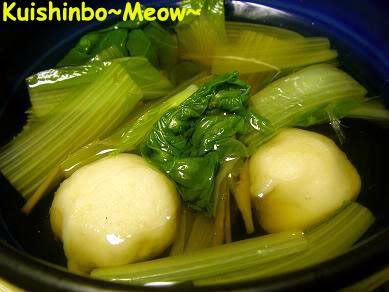 Of course, soup is a must for such a festive meal.
I was supposed to have a whole fish, but since I don't have it, I decided to substitute it wil round fish ball. LOL Better than nothing, right?
In order to make my one-man dinner turned more interesting, I called my family back home.
Chomp chomp chomp while chat chat chat with them. Little did I realize I ate 2 bowls of rice that evening.
I hope the next Chinese New Year, I will be able to eat this meal with my beloved.
XXXXXXXXXXXXXXXXXXXXXXXXXXXXXXXXXXXXXXXXXX
This morrning, I wore red shirt, red shoes and red... ehhem... to my work.
Hehe...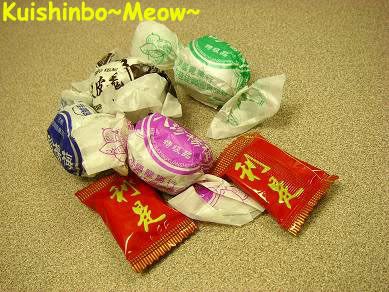 Received a little surprise from a co-worker. She came in with 3 big packs of Chinese sweets and gave me a few.
Ohh~~~ this was awesome. I never thought of how much this sweets meant to me until I tasted it again in a foreign land on Chinese New Year by an American.
Thank you dear. It was full of joy when I munched on this. Delicious!!!
How is your Chinese New Year? I heard Kuching's firework and firecracker were insane as it was a very good weather night.
I miss that!!