Je vais au Québec
Hehe... don't understand the title?
Neither do I. It was actually a French translation from
Babel Fish
for my English title "I am going to
Quebec
".
Here is my story. ;)
Last year, my boss showed me two conferences and wanted me to choose either Quebec City or Indianapolis.
Hehe... a choice too obvious for a travelling fish like me, isn't it. In fact, Quebec have been one of the top of my must visit place list back to 6 years ago when I first learnt about it from an exchanging student who studied in the same university as me in Japan. Hearing her describing that city was just like a kid looking at all those scrumptious candies, too irresistible.
After I was accepted to the conference by the judging committee early February, I proceeded to apply for Visiting Visa to Canada in middle to February.
It was actually pretty simple steps. Just read everything they required online, get everything ready, including the fee. Sent the whole package to the Canadian Embassy in Washington with a return envelope and all I had to do was just waiting.
After 3 weeks...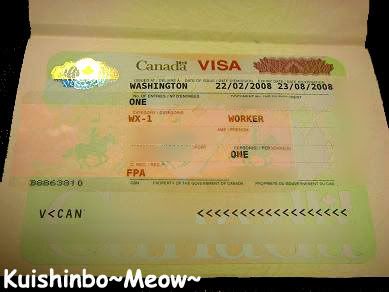 Tralala~~~ my application was approved. Yippie!!!
No one-to-one interview, no long waiting time, I am indeed very impressed with the efficiency of them.
Yes, everybody, I am going to Quebec City for real. The best part, this year is
its 400th anniversary celebration
, you bet it will be more fun in this oldest city in North America.
I am lucky! *grin*