My first proper dinner in Quebec
The third day in Quebec was an important day for me.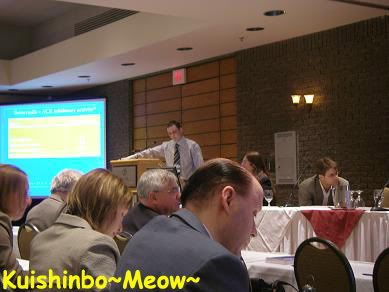 In the morning, I attended talks by other speaker. While looking at them, I tried to imaging myself sitting in front of the whole hall of attendees and being stared like an alien.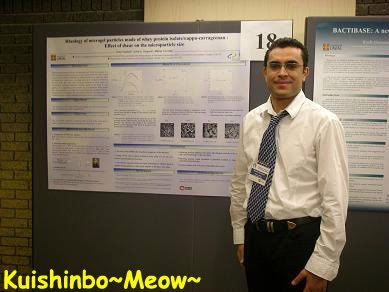 During lunch time, I went to see some of the posters that I was interested.
One of the thing I like was a chance for me to make some new friends.
Samy, a new Tunisian friend. A very friendly, helpful and nice guy.
I was actually surprised to know that Tunisians are more common in French speaking regions as it is their second most common language.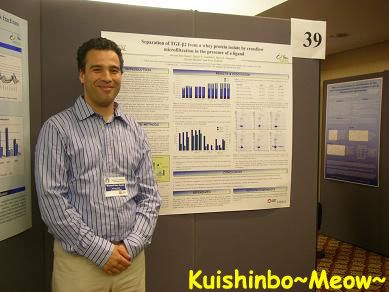 Another Tunisian friend that I made. Wassef is a fun to be with guy. He was taking every possible opportunity to speak English, including with me. Way to go dude! ;)
Too bad, I could only reply in "Oui". :P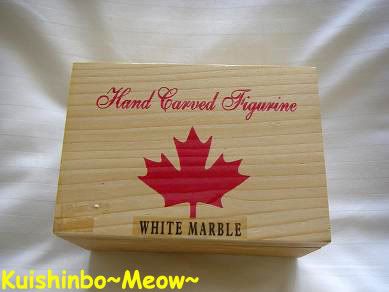 After the lunch, it was my turn to sit in front of the attendees.
I could see their "interesting" facial expressions. Maybe because I was the only Asian speaker for that conference.
Luckily, it went well. In fact, a few specialists in my field came up to me and said they love my presentation. Thank you for those compliments, it made me more confidence in the future. I was so glad I did not spoil my boss reputation. (Yes, that was what I worried the most)
After each talk, the speaker was given a nice wooden box as a souvenir.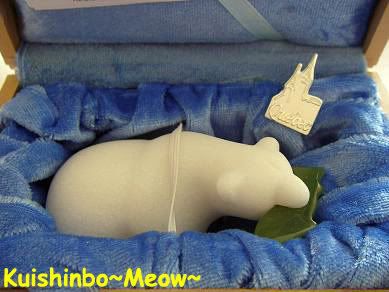 Tralala~~~ a white marble figurine and a nice Quebec badge.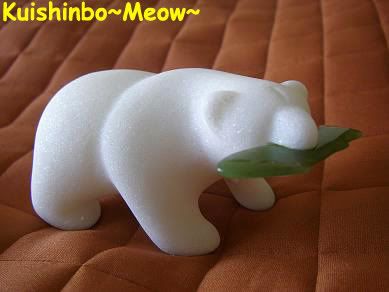 Ouch... the bear is biting a fish! I am going to give this to my mom. She loves stuff like this.
That evening, I decided to spoil myself a bit with a nice dinner.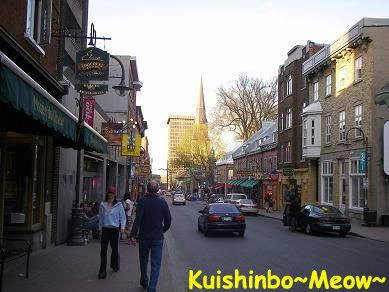 I walked along Rue St.-Jean trying to find the right restaurant.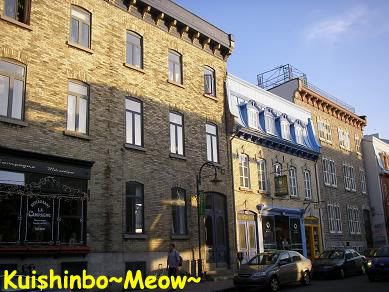 It was a street with old but nice buildings.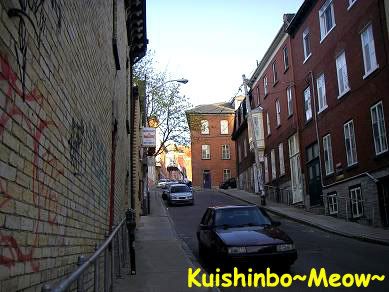 Like any other cities, the more quiet small streets have the wall stained with random paintings.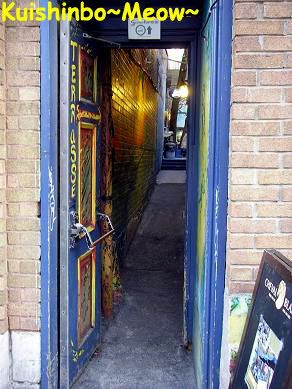 This was a very interesting entrance. A small aisle which was only big enough for 1 person to walk through. At the end of the aisle, there was a bar.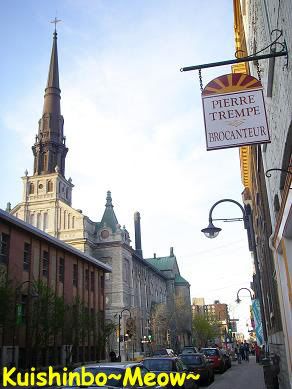 There are a lot of churches in Quebec. However, I learnt that it is more common for modern Quebecois not going to the church. They also tend to live together only rather than getting married as they do not believe church style wedding. (How true this is I don't know, this was told by a Quebecois I knew in the conference).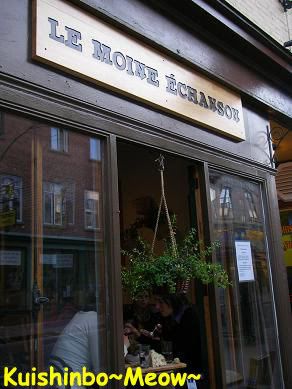 After looking at quite a number of restaurant, I stopped in front of this Le Moine Echanson.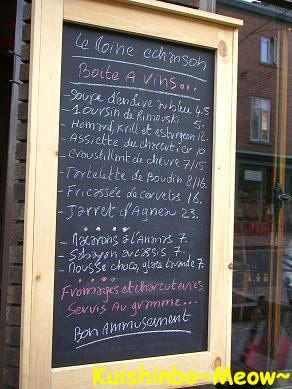 Oops! All French. Luckily, there was a very nice staff that explained all the menu in English to me.
I was interested in either the sausage or lamb, but eventually I went for the sausage as I was curious to know how would it taste. (Quite a regret.)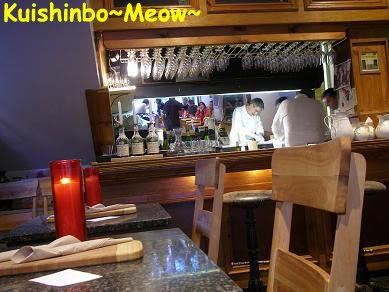 Nice interior. Only two people were working in this small restaurant.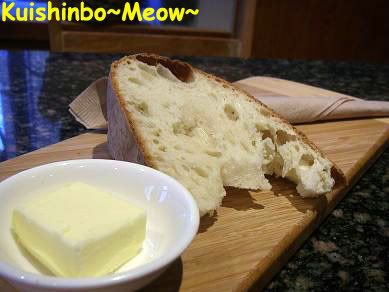 My bread and butter. Love the slightly salted butter. Not so much on the bread, a bit too dry though the air pockets on the bread looked good.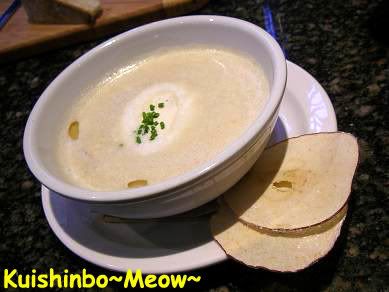 I never had an endive soup, so I decided to try it.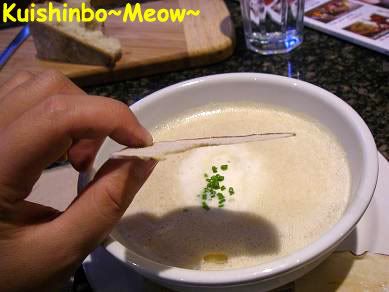 Oolala~~~ look at how thin the apple chips that came along with it. In fact, it is too thin I hardly could hardly feel the texture. It was almost soften in my mouth the moment I took a bite.
Quite a lovely creamy endive soup though. The creamy flavour with a hint of bitterness from the endive. A good choice for appertizer.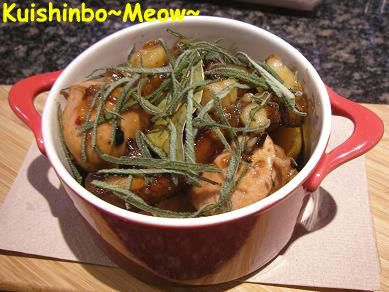 My entree came in a fancy small pot.
The sliced fresh sage on top of the warm dish instantly gave a very nice herbal sensation to my olfactory system.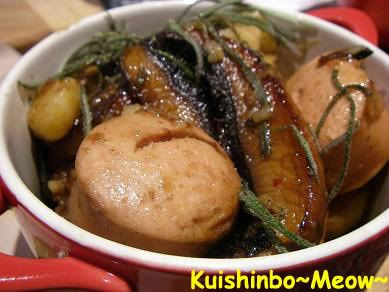 However, I was very disappointed to see that the sausage was the "emulsion" style rather than "chopped meat" style.
I was right. Nothing great about the sausage. The sauce was too sweet.
I looked at the other table who was enjoying the whole lamb shank. That lamb shank was almost smiling to me smirkingly. *damn myself*
Oh well, think of the good side.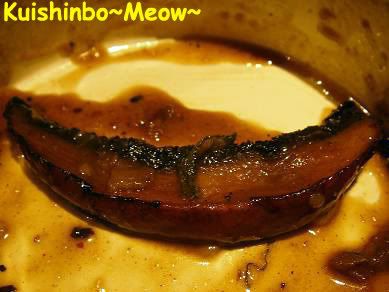 At least the portabello mushroom was good. Thick, flavourful and nice texture.
However, paying a Can$16 (not including tax and tips) for this pot of "sausage" was somewhat overprice. Tourist area, predictable.
I ended up paying Can$27 for that bowl of soup and this pot of "sausage" with mushroom.
The service was nice though.
By the time I walked out from the restaurant, the night was getting darker.
I could see the "400" signs here and there, as it is the 400th annivesary for this oldest city in North America.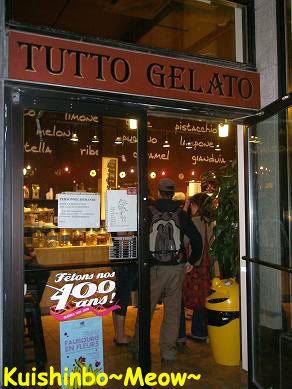 Passing by a gelato shop. Quite a line.
Hehe... reminded me that I did not order any dessert during my dinner.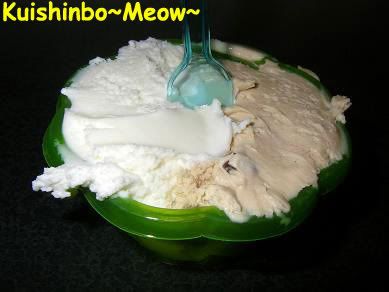 I chose the cheapest one, 2 flavours for Can$3.25.
Mascarpone cheese gelato (white) and hazel nut gelato (right). The mascarpone cheese was a bit too mild for me. They should put more cheese in it. The hazel nut was a good one. I could detect the nutty aroma with every bite. Yum~~~
Not a very satisfied dinner, but it was alright.
The next day dinner at opera house was a better one.