Irresistible finger food - Bacon wrapped sausage
The 1st time I had a bacon wrapped sausage 1.5 years ago, I fell in love with it. Since then, I never have another chance to try it again.
Somehow, a couple months ago, we were having a spring picnic. I decided instead of waiting for the next chance, why not create a chance by myself.
I challenged making bacon wrapped sausages for the first time.
Jo kindly told me the recipe. It was actually very easy to make. I did a modification as I have two Turkish friends that could not eat pork. It was a pleasant surprise to see "beef bacon" and "beef cocktail sausages" on the shelves. Just the perfect ingredients I needed.
I also bought a pack of brown sugar.
Then, just follow the simple few steps.
1. Cut each slice of bacon into 3 portions.
2. Coat the bacon with brown sugar.
3. Wrap one bacon around one sausage and hold it with a toothpick (100 toothpicks cost me US$2, si beh expensive!!).
4. While wrapping in progress, preheat the oven to 325 degree F.
*Note : Try to be patience when doing the wrapping. Can take up quite some time.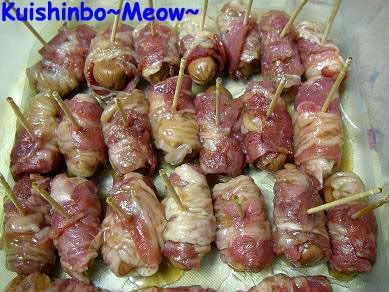 Tralala~~~ input with a lot of love by fish fish.
After 45 min of baking (time is variable with your oven and the degree of crispiness you want)...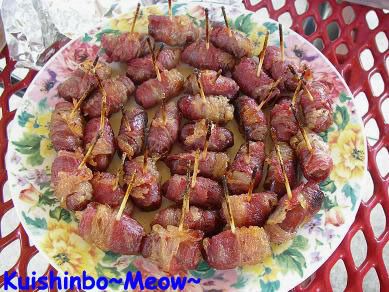 Tralalalala~~~ these sweet and salty blood clotting appetizers were such an evil temptation.
The bacon was soft yet crispy in some part, with the succulent tiny cocktail sausage, just the great thing to go with your cold beer or bubbling soda.
So, the next time if you are tired of making salads and you have extra time in front of the TV, try to challenge this. Look good, smell great and taste awesome!!
It will definitely be a nice surprise for your guests. ;)
ps: It is the last day of June. Officially, 1/2 of the 2008 will be gone. *gulp*
pps: Posts in Quebec will resume when I have long time for photo editing and brain-squishing writing.