Day 5 lunch
Hot hot day again today. As a result, I only went to work around 4.30 p.m. Still it was HOT! Worked until 10 p.m. Rushed to buy food before the supermarket closed at 11 p.m.
Now, I am feeling good with a full stomach. *burp*
Read news in Malaysia lately about the 40% increase on the petrol price. Mom told me filled up 1/3 of her car's tank cost RM60++. In N.C. now, 1 litre of petrol is equivalent to RM3.40, and it is going to be more than RM4.50 in the summer. It is going to be a burden for the average income Kuching citizens as somehow, unlike other big cities in Malaysia, Kuching's monthly salary in general are much lower.
Ok, back to my Quebec talk.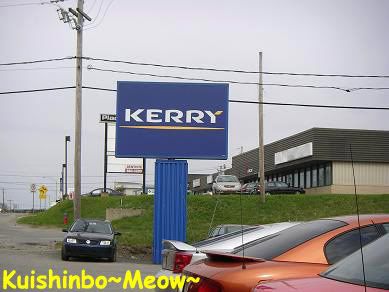 After the conference ended with a nice closing dinner, the next day I still have to wake up early to come to this place for a technical visit. It was ok.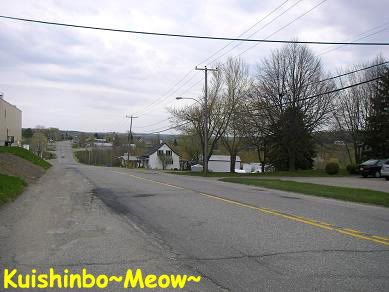 But the place was located in a very rural area. It took us more than 1 hr to reach the destination.
By the time we reached back to the hotel, it was already lunch time. It was not as easy as we thought to find a place for lunch. Even though it was over 1 p.m., they were still people eating lunch here and there.
Our first choice turned up to have an idiot as a waiter. When we requested for the English menu, he used a very arrogant way to say
"Oh, in Quebec, no English menu. It is the city rule. We only use French. But I can translate it to you."
Grrrr... Justyna and me changed eye signal with each other.
He then came back with a menu written on a chalk-board, with only about 8-10 choices.
"So, what languages you want? German? Italian? Russian?"
I never seen a guy as "ugly" and "disgusting" as him.
Justyna said,
"How about Polish?"
and I said,
"Japanese?"
He said,
"Sure, no problem. Errrr... I don't know both."
Then, he laughed at his own "humorous joke".
We decided to let him explain the menu one by one. After he ended, Justyna and me change eye signal again.
"We wanted to discuss a bit."
We said to him.
"Sure, no problem."
He walked away.
Almost the same time, behind the chalk-board, we whispered to each other,
"Let's find somewhere else.""Well, there is nothing in the menu that we like. Sorry."
We said to him. Then we left.
Seriously, a tourist place like old Quebec, saying that no English menu as the city rule was one of the ridiculous reason. Oh well, at least we did not eat there and spoil the remaining of our day.
Ok, enough for the story.
Let see what was the place that we decided to take our lunch.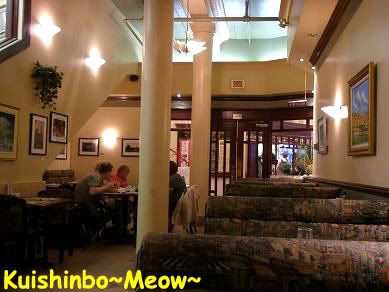 Forgot the name. Not many people inside, only two waitresses taking care of the whole restaurant. We were led to this area with less people. She gave us the menu with "bilingual".
Hmmm... interesting, I thought the idiot earlier said it is the rule not to have English menu.
I feel sorry for him, to be such a narrow-minded Homo sapiens.
Both of use chose lunch set menu which came with appertizer, coffee and dessert.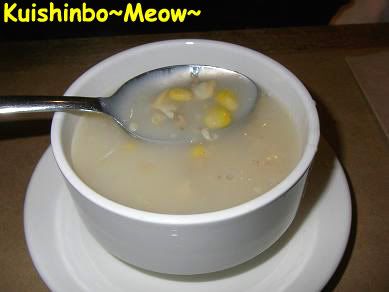 Justyna chose a clam chowder. She didn't like hers. It did not look like a clam chowder to me.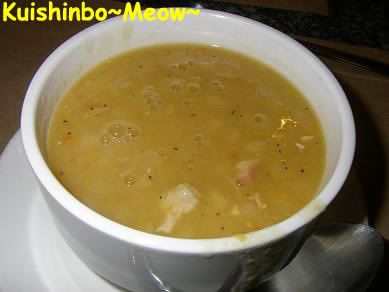 I never tried a pea soup before, so I chose it. I didn't like mine neither. This might be one of my non-favorite soup.
Justyna liked my pea soup more and I prefered her clam chowder.
We ended up finishing each other bowl of soup. LOL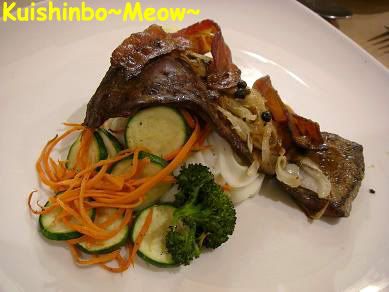 For main entree, I had Calf Liver. A pretty disappointing dish. The vegetables tasted as sorry as their look. The mash potatoes tasted exactly like it was just rehydrated from those freeze-dried potato powder.
The calf liver was too thin and overcooked. They should learn how to make one like
Mama Dip's
.
This was a dish just for filling up my stomach.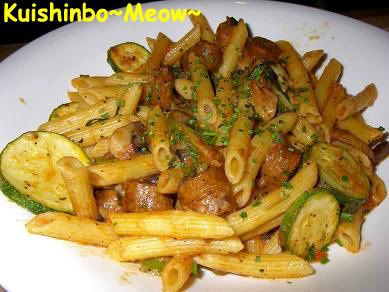 Justyna had a penne with lamb sausage. It was so so. The sausage did not taste good. Neither do the pasta sauce. Oh well, another fill up the hunger thing.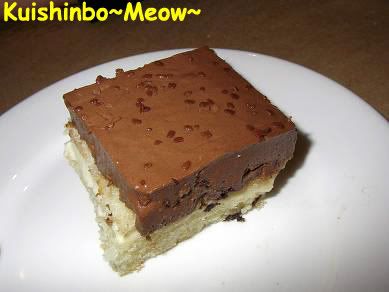 Probably the dessert was a slightly better one. Especially after a whole piece of calf liver, this sweet piece of cake did taste pretty ok.
Despite not a delicious lunch, both of us were fully charged with whole lots of calories. We were ready to explore the old Quebec scenic spots. ;)