Au Petit Coin Breton
I failed as a blogger in recent months. I am, however, a good blogs reader. Should write more. My traveling photos are stacking up, not good at all. Working is consuming a lot of my energy physically and mentally.
I have came back from my L.A. trip, yet I am still stucked in my Quebec trip posts. :P Oh well, hope I will be pushing myself more to blog the remaining 3 months ++ of this year.
Dear Yoyo, お待たせしました。Here is one update about my experience with crepe in a restaurant. By the way hor, あのスケベオジサンはあなたのチューハイを沢山飲んだよ。実はちょうおいしい~とじゅっと言ったよ。ただし、あなたの前に、"かおの問題"で、認められなかった。;) 今度あなたのために、私が彼を打っとけやるは。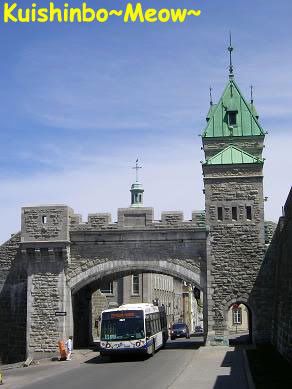 Quebec city is beautiful and unique. A great blend of beautiful scene, historical buildings and excellent choices of restaurants for awesome gastronomic experiences.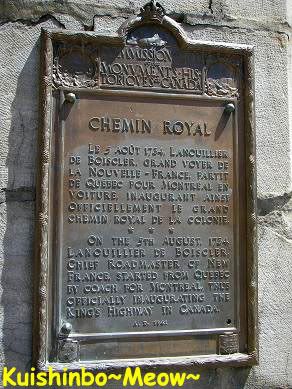 A late morning walk around sunny May definitely helped me and my traveling partner, SG to create more appetite for the remaining day.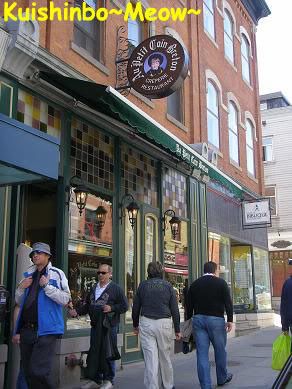 We decided to have brunch in
Au Petit Coin Breton
.
The word
Breton
, actually is a Celtic language spoken by some of the inhabitants of Brittany in France.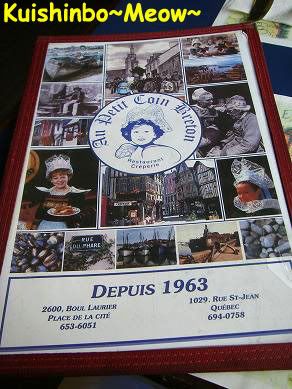 That brought us to
Brittany
, a former independent Celtic kingdon and duchy, which now became the northwest region of France.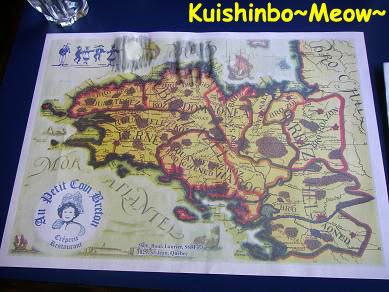 Instead of the common table mats, ours were map of historical regions of Brittany.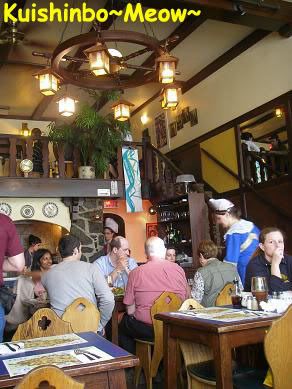 The interior was not too big but cozy, packed with curious lunchers like us.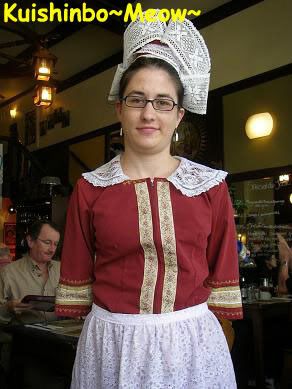 Our waitress was beautifully dressed in Old Brittany Costume. She kindly let me took a photo of her.
As crepe was originated from Brittany, it was the best option to try a real crepe in such a nice little restaurant.
We chose four things to try.
Three of them came as a set lunch. Three of them were crepes. ;)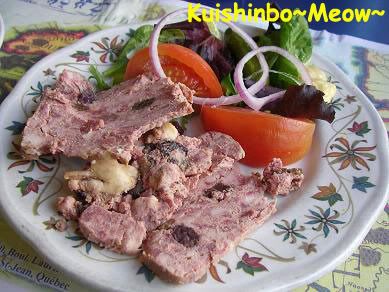 Terrine with salad was the appertizer in the set lunch.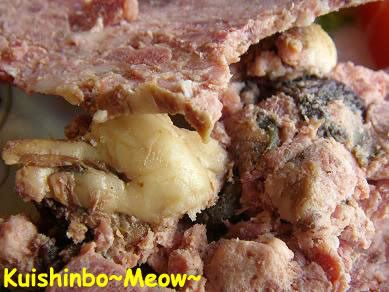 I didn't want to think what were inside it. Did not look good, but taste was pretty good.
The fat melted in my mouth, great to go with sliced bread and butter. But there were other things that gave very interesting texture combination to this piece of "meat".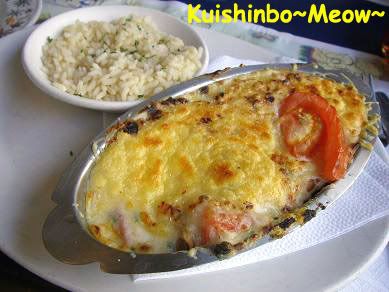 The set also came with a grilled gratin with crispy and melty cheese on top.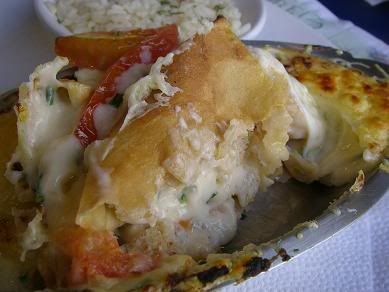 Not just a normal gratin, but a gratin with wheat flour crepe hidden inside it.
The other main ingredients were vegetable, shrimp and crab.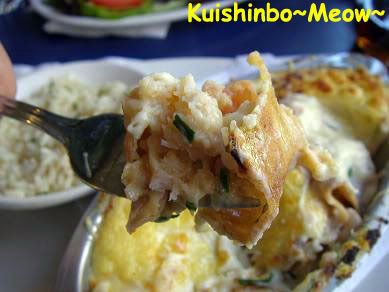 It was just ok. The shrimps were too small and tasted like frozen shrimps.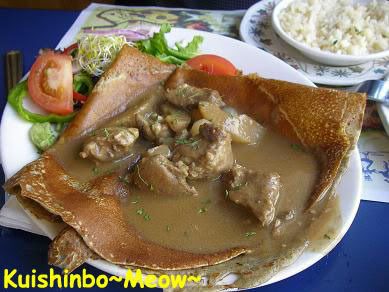 However, our ala carte choice for the day was something more worthwhile to mention.
It was actually a buckwheat crepe with stewed wild boar meat.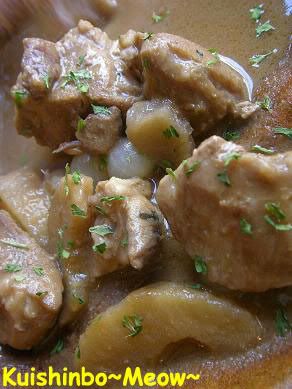 It was a pretty interesting combination, although I am not sure if eating with wild boar is something traditional in Brittany. The pear and mini onion were very soft, sweet and salty at the same time.
The meat was not too soft nor hard. Definitely tasted very different from the
wild boar knuckle
we had the night before.
The soaked buckwheat produced different texture and flavor sensation than the unsoaked area.
We finished the whole thing.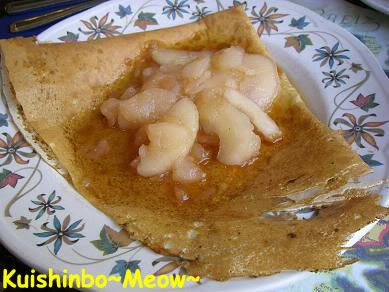 The dessert was included in the set lunch. Sweet version of wheat flour crepe, topped with pouched pear and maple syrup.
Too sweet!! Should have asked them to put the topping on side. I bet just a slight dip of the plain crepe into the maple syrup would make it much better. We only finished 1/3 of this.
The restaurant was packed from the moment we started until we finished our lunch.
The service was just ok, due to the number of customers.
Still, I was enjoying my meal. Staring out from our window seats, looking at the crowds that were passing by.
In fact, they were looking at us too, more likely at our foods. LOL
It was a very busy sunny afternoon.