How I usually spend a lazy Sunday
Working 6 days per week somehow seem to be my normal routine now, although I am supposed to work only 5 days per week. No OT pay for the extra work. It is ok. I just want to finish as much work as possible before my contract ends next year.
That leave only a free Sunday for me per week. I like this lazy Sunday.
So here is how I typically spend my whole Sunday. It will be boring for some of you the way how I spend it, but these are just what I need after a whole week stress at work.
Usually, I wake up around 11am-12pm. Then I make a complete brunch to spoil myself.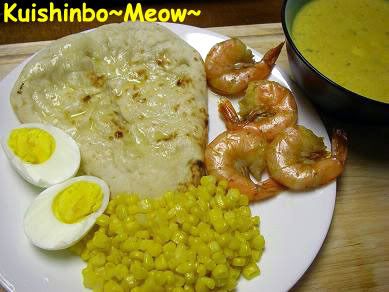 This morning, I made a pretty instant brunch. A piece of frozen cooked naan from Trader's Joe. Some baked extra jumbo shrimps marinated with maple syrup, Chinese light soy sauce and curry powder. The naan and shrimps only took 2.5 min to cook in the 400 degree F oven. While letting my boiled egg to get well done, I microwaved my lightly buttered sweet corn for 1.5 min and heated half pack of Campbell's V8 Golden Butternut Squash Soup with a few tablespoons of milk and some curry powder.
The whole process took me less than 20 min, and yet it was one of the most awesome lunch I had for the week.
I miss roti canai, but it is not easy for me to get one here. Naan is a good alternative option. To match with the Indian theme of my meal, I decided to use curry powder in the shrimps and soup. It was a good one. The shrimp was slightly sweet, salty and aromatic, while my soup was creamy yet with a hint of spiciness, great to go with the naan.
Yeah, it was a very fusion brunch, but a good one.
After the lunch, it was time to burn some calories. I like to walk to the $1.50 cinema 25 min away from home and enjoy my moviethon with no popcorn, savoury popcorn is just not my cup of tea. I watched good movies today for only $3.00. If compared to a Si Beh Hao Lian Ah Pek who pays $10.50 per movie, I can watch 7 times more movies. Muahahahaha...
My choice for today was
The Mummy 3
and
Indiana Jones 4
. Nice movies. A lot of actions and I don't have to use my brain to understand the stories.
The evening just came too fast and my tummy was rumbling.
I went to
Cook Out
to have a fast and unhealthy dinner. A foot long hotdog tray that came with homemade chili, fries, onion rings and diet coke for only $5.00.
I was bloated. Need to burn more calories by shopping at the supermarket. It took me an hour.
My whole movies + dinner only cost $8.00. Good value during a serious economy down time.
By the time I reached home, it was already 8pm. Time for Extreme Makeover Home Edition and Desperate Housewives. I started Desperate Housewives because my favorite male actor started to act in this season. ;)
Until this point, everything seems to be good. But the remaining hours, I will have to finish two more tasks for work, prepare tomorrow's lunch and dinner, and a home edition exercise.
*sigh* Such is life.
I am looking forward to my coming Sunday again, but let just hope with no homework to bring home.
I hope you all had a blasting weekends. ^_^