He just loves birthday
Hao Lian Ah Pek always very proud of himself to be born on 01.01.
"I am the chosen one lar~~~"
, as he always like to claim. Worse, he likes to say my birthday date no special, in hope to see me cry of self-pitiness.
In fact, when I was young, my birthday was nothing special as it always fell on the exam seasons. A couple of years, mom even forgot it. So kor lian~~~ Somehow, it built up a way how I treat my birthday as something more casual, but I have been calling my mom for the past few year on this day just to thank her for bringing me to this world.
Yoyo, your Lao Da and Xiao Xiao got so like to celebrate birthday as much or not? Maybe Xiao Xiao still too Xiao to know.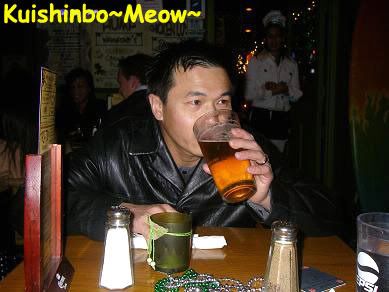 Somehow, I am now tied to a guy that loves his birthday celebration as much as he likes to show off himself. Nobody likes birthday cake as much as he does. Not to eat, but to sing a birthday song with.
We started with a simple dinner at a Brazillian restaurant. Nothing fancy. Just wanted to fill up the stomach as we were too late for the great alligator meat. (Grrrr... went twice and missed twice!).
His not so happy face.
Why? Because this Hao Lian Ah Pek die die wanted an open air band to play a birthday song for him, but they rejected the request. So, like a man with mid-life crisis, he was grumpily said it repeatedly,
"What kind of live band that does not play a birthday song for the audience?? Lousy s**** band. No wonder play on the street. S**** band."

I wanted to laugh, but didn't want to upset him more.
Luckily, there were three beatiful ladies came to him when they saw his cake,
"Oh~~~ your birthday??""Yes!! My birthday. I am the New Year baby!! WooHoo!!"
He tuned up his voice, kiasi no one could hear it.
Those ladies of course were very happy for him, and sang him a birthday song!! Thank you ladies, you all saved my day.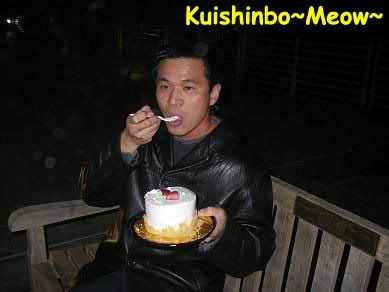 So with a much more happy face... he chomped down his birthday cake. Guys will always be boys.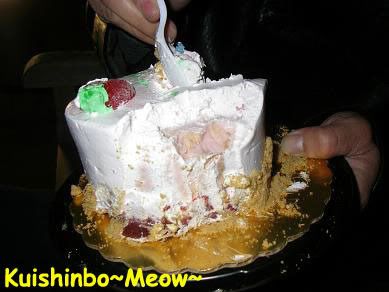 Technically, just few bites as it was too cold for a very creamy and hard ice cream cake, despite from Cold Stone.
Baby, let me be the one to choose the cake next time. You are suck in choosing sweet stuffs.
I promise will buy you a birthday cake. Unless miracle happens, no homemade from me. You know why.
Aritsu. Totemo aritsu. Chu~~~